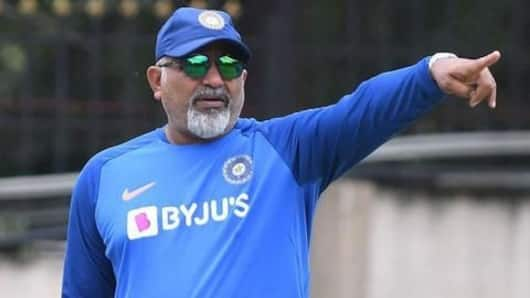 Here's what Bharat Arun said about pitch conditions in India
The second Test between India and South Africa would be under the scanner, especially regarding the pitch in Pune, as the opening Test at this venue, in 2017, saw it being rated poor by the ICC.
Meanwhile, speaking on the pitch conditions in India, men's team bowling coach Bharat Arun said the team never asks for a specific kind of pitch.
Here's more.
India cannot rely on pitches being No. 1, feels Arun
Arun said that India, being the No. 1 Test team, cannot rely on specific types of pitches and accept it as they come, both at home and overseas.
"We tend to assess the wicket at the last moment, but we say that we are going to look at it as home conditions and the wicket is the same for both teams," he said.
Adapt your bowling instantaneously for success: Arun
"When the ball turns, you don't accept it. Ideally, a normal wear-and-tear wicket for Test match is fine, but if you want to be the No. 1 team in the world, you can't be looking at wickets," added Arun.
Love Sports news?
Stay updated with the latest happenings.
Yes, notify me
Pune pitch under the scanner since 2017
It was in 2017 when Pune pitch curator Pandurang Salgaonkar was under the scanner first, as a Test between India and Australia ended within three days, with 31 wickets being claimed by the spinners.
Moreover, Salgaonkar was also caught red-handed in a sting operation by India Today TV channel, after he was seen attempting doctoring the pitch, while ICC suspended him for six months.
Vizag pitch was abrasive, claims Arun
Speaking on the pitches, Arun also claimed that the Vizag pitch for the opening Test was abrasive too, as the ball did not reverse swing.
As a result, the bowlers had to bowl more on the stump line for success.
"Shami got four out of his five wickets bowled. The line changes, how quickly a bowler is aware of what is happening," Arun continued.
Arun asserts captain's freedom to the pacers
Arun also asserted the fact that skipper Virat Kohli has given enough freedom to his pacers to bowling accordingly, as per their will.
While Jasprit Bumrah and Mohammed Shami are given short spells, Ishant Sharma bowls the longer ones.
"Shami has, in fact, said in one of his interviews that captain lets them do what they want," Arun concluded.
How old is Bharat Arun?
Asked 2019-10-09 12:45:42 by Diya Chavan
Answered by NewsBytes
Arun 56-year-old.
When was Arun appointed India's bowling coach?
Asked 2019-10-09 12:45:42 by Hansika Pillai
Answered by NewsBytes
Arun was appointed India's bowling coach since July 2017.
Where is Japrit Bumrah ranked in Tests?
Asked 2019-10-09 12:45:42 by Trishla Malik
Answered by NewsBytes
Bumrah is ranked third in ICC Test Bowlers' Rankings.
How many Test wickets has Mohammed Shami claimed?
Asked 2019-10-09 12:45:42 by Aaryan Pawar
Answered by NewsBytes
Shami has claimed 158 wickets in 43 Tests to date.