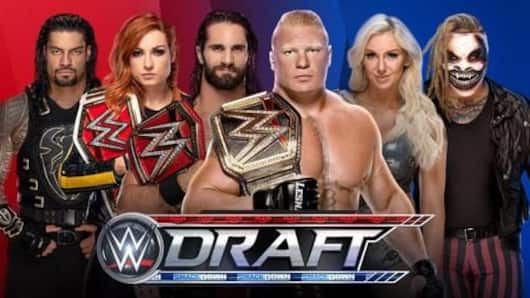 WWE Draft 2019: Analyzing the top picks from Day 1
The ongoing WWE Draft is giving a fresh new identity to both Raw and SmackDown, as WWE's landscape is undergoing a massive change.
As far the Day 1 of the Draft is concerned, while most of the picks were obvious, there were a few conspicuous ones, as we rank the top picks from the opening day.
The Fiend's reign of terror to continue on SmackDown
The Fiend, Bray Wyatt, has terrorized a number of superstars of late, including the Universal Champion, Seth Rollins.
While Rollins might have managed to retain the title against him, courtesy of a no-contest, the former could breathe a sigh of relief, for now.
However, the move for Fiend to SmackDown could spell bad news for the WWE champion, Brock Lesnar, asides an interesting feud.
The Viper set to add another feather to his cap!
In our pre-Draft analysis, we had said that former 13-time world champion Randy Orton should make a move to Raw to pursue a fresh new challenge.
Now that he has been drafted to Raw, he looks set for the challenge, as he could well eye the Universal Championship, which he has never won before.
Also, Orton challenging Rollins as a heel is mouth-watering.
Love Sports news?
Stay updated with the latest happenings.
Yes, notify me
The Boss to rule SmackDown and reunite with her bestie
Ever since making her debut in 2015, Sasha Banks has wrestled on SmackDown, but was never a permanent member.
While we had predicted her move in our pre-Draft analysis, the move did happen and the reason seems quite obvious.
She is likely to be pitted against her best friend and reigning SmackDown Women's champion, Bayley, as a long-standing feud between the two is due.
The Monster could be in the World Championship frame
Braun Strowman did make a name for himself on Raw, especially feuding with Lesnar on multiple occasions for the Universal Championship.
While he never won one, the move to SmackDown is all set to give his career a major push.
Although he could also go after the World Championship, he is unlikely to be pitted against Lesnar anytime soon, and the wait could continue.
Is another bestie feud on the cards for Kevin Owens?
Kevin Owens did a hell of a job to defeat Shane McMahon and get him fired last week.
However, it has kind of got him demoted, as he has been drafted to Raw, which is likely to be the B-show, for now.
Nonetheless, his best friend Sami Zayn is on Raw and a reunion or a fresh feud could be on the cards.
How old is Sasha Banks?
Asked 2019-10-12 14:28:24 by Muhammad Rathore
Answered by NewsBytes
Sasha is 27-year-old.
How many times has Kevin Owens won the World Championship?
Asked 2019-10-12 14:28:24 by Muhammad Mehta
Answered by NewsBytes
Owens has never won the World Championship in WWE.
Has Bray Wyatt ever won the World Championship?
Asked 2019-10-12 14:28:24 by Rishika Tata
Answered by NewsBytes
Wyatt is a one-time world champion.
How old is Braun Strowman?
Asked 2019-10-12 14:28:24 by Aanya Malik
Answered by NewsBytes
Strowman is 36-year-old.