Sports
Virat Kohli got paid from Uttarakhand's flood fund?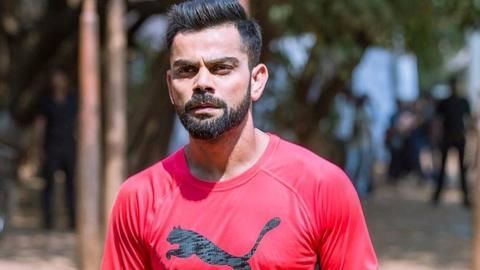 According to a reply to an RTI filed by BJP leader Ajendra Ajay, the state government paid Indian cricket team captain Virat Kohli from the funds reserved for the upliftment of 2013 Kedarnath flood victims.
Kohli was reportedly paid Rs. 47.19 lakh in 2015, when he was appointed as Uttarakhand ambassador and had also appeared in a 60-second tourism video for the state.
In context:
Uttarakhand Govt. in trouble Kohli's appointment?
2016

Virat Kohli as the brand ambassador of Uttarakhand
Indian cricket captain Virat Kohli was named the brand ambassador for the state of Uttarakhand by the state's tourism department in April 2016.
He also shot a minute-long video to promote the tourism of the state.
Reportedly, he also spent last Christmas in Uttarakhand to promote the state for popular holiday destination. He was welcomed by state's Chief Minister Harish Rawat.
25 Feb 2017

Virat Kohli got paid from Uttarakhand's flood fund?
Love Sports news?


Stay updated with the latest happenings.
Kohli's agent claims 'no monetary transaction'

Virat Kohli's agent Bunty Shah denied the report and said, "There has been no monetary transaction whatsoever." Bunty is the founder and Chief Executive Officer of Cornerstone Sport and Entertainment.
Details

What does the RTI reply say?
According to the received RTI reply, Kohli was paid through Ms. Kailash Entertainment Private Ltd. Mumbai.
The report also added that the money was from the funds allotted to one of the worst affected districts, Rudraprayag in the 2013 flood.
The disbursed money also includes income-tax liabilities which were to be borne by the brand ambassador.
Having a brand ambassador sheer waste of money: Ajendra Ajay

BJP leader Ajendra Ajay said, "What is the requirement of a brand ambassador for the state? What role do they play in the long run? This is nothing but sheer waste of money."
Details

Have done nothing wrong: Rawat Government
Calling the allegations of the BJP baseless, chief minister Harish Rawat's media advisor Surendra Kumar said, "Everything was done through legal channels. No rules were violated in paying the money to Kohli for an advertisement."
He added, "BJP is on the verge of losing elections, so it is coming up with such diversionary tactics out of frustration."