Sports
'I'm a clean athlete' says Olympic champion Mo Farah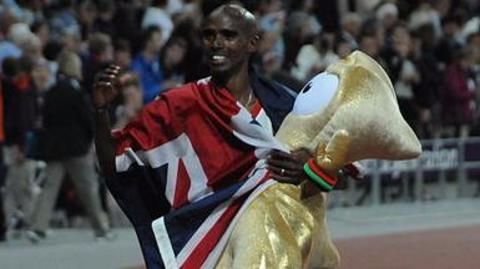 Four-time Olympic champion Mo Farah insisted that he is a 'clean athlete' after a US Anti-Doping Agency report suggested that his coach Alberto Salazar may have broken anti-doping rules.
Countering any association with "allegations of drug use", Farah defended himself stating he competed cleanly and never broke any anti-doping rules.
He also said, "it is deeply frustrating" for having to respond on the subject.
In context:
The drug controversy involving Mo Farah's coach
Summary

Mo Farah, athlete profile
Mohammed 'Mo' Farah, born in Mogadishu, Somalia, is a British distance runner.
Farah is a double Olympic champion having won four gold medals - in both 5000m and 10,000m at 2012 London and 2016 Rio Olympics.
He is a world champion who won 5000m gold at IAAF World Championships in 2011, 2013, and 2015; and 10,000m gold in 2013 and 2015 World Championships.
27 Feb 2017

Mo Farah's coach accused of endangering athletes with drugs
According to a leaked report from the US Anti-Doping Agency (USADA), obtained by Sunday Times, Alberto Salazar, the coach of many prominent athletes including Mo Farah, allegedly abused prescription medicines and experimented with prohibited drug infusions to enhance performance of his runners.
The documents accused Salazar of routinely giving Farah and other athletes, infusions of a research supplement based on the chemical L-carnitine.
Love Sports news?


Stay updated with the latest happenings.
About L-carnitine

L-carnitine is found naturally in the body and is also prescribed as a supplement. It is not a banned substance but infusions of more than 50ml in the

space

of 6 hours are prohibited.
27 Feb 2017

USADA confirms compiling dossier on Salazar
USADA confirmed that it complied a "report in response to a subpeona from a state medical licensing body regarding care given by a physician to athletes associated with Nike Oregon Project" (where Salazar is the head coach).
USADA however said no conclusion had been reached and stated that "all athletes, coaches, etc are innocent and presumed to have complied with rules" unless declared otherwise.
27 Feb 2017

Salazar denies allegations
Alberto Salazar, the American coach of Mo Farah, denied allegations of breaking anti-doping rules.
He said he believed in clean sport and that, "The Times has simply recycled old allegations that have been refuted almost two years ago."
He added that "L-carnitine is a legal supplement which is not banned by WADA and that any use of it was made within WADA guidelines."
27 Feb 2017

'I'm a clean athlete' says Olympic champion Mo Farah