Sports
Aussie newspaper alleges Kohli and Kumble of misbehaviour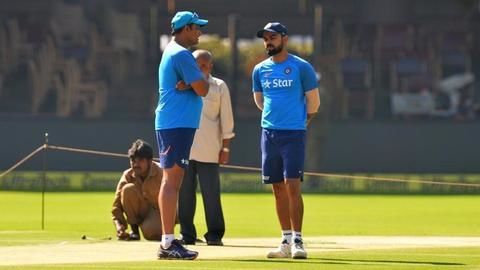 The 2nd Test in Bengaluru had been marred by aggressive rhetoric from both the Indian and Aussie sides.
While the attention to on-field tactics by the visiting team just seemed to fade off, another controversy appears to be brewing.
In the latest episode, an Australian newspaper, The Daily Telegraph, made claims about indecent behaviour by the Indian captain Virat Kohli and coach Anil Kumble.
In context:
India vs Australia: No love lost
1981 Test walkout

The history of bad blood between India and Australia
Cricketing rivalry between India and Australia is rife with examples of heated exchanges and controversies over the years.
The oldest such rows goes back to 1981 Test match at MCG involving Sunil Gavaskar and Dennis Lillee.
Gavaskar who was ruled out for lbw off Lillee's bowling was infuriated by something Lillee said. The Indian batsman staged a walk out along with partner Chetan Chauhan.
2008 Sydney Test

The infamous 'Monkeygate'
While there has always been frequent banter between the Indians and the Aussies, the 2008 Sydney Test stands out as the worst and biggest of all controversies involving the two teams.
During the Test, Andrew Symonds accused Harbhajan Singh of calling him a 'monkey'. Harbhajan was banned for 3 matches for the racial slur which was later withdrawn after a BCCI appeal.
Love Sports news?


Stay updated with the latest happenings.
08 Mar 2017

Steve Smith and the DRS incident
The Decision Review System (DRS) controversy involving Australian skipper Steven Smith erupted during the Bengaluru Test, when Smith took the help from the dressing room on couple of occasions to seek opinion before going for review.
Kohli vehemently opposed this and accused Australia of 'crossing the line' while Smith admitted that it was wrong and called it a "brain-fade" moment.
Kohli's response to Smith's 'brain-fade' remark

Kohli called out on Smith's brain-fade explanation and said, "if someone makes a mistake while batting, ..that's a brain fade. But if something is going on for three days, that's not a brain fade."
08 Mar 2017

No action taken, BCCI withdraws complaint
ICC had decided not to take any action taken against Steven Smith or Kohli as a follow-up to the DRS issue.
BCCI had earlier said that ICC should consider Smith's 'brain-fade' remark as admission of guilt.
With an aim to restore focus on the ongoing Test series, the issue was later resolved. BCCI withdrew their formal complaint against Smith and Peter Handscomb.
11 Mar 2017

Aussie newspaper alleges Kohli and Kumble of misbehaviour
Love Sports news?


Stay updated with the latest happenings.
Details

What have Kohli and Kumble allegedly done?
According to the Daily Telegraph, during the 2nd Ind-Aus Test, Virat Kohli "struck an Australian official with an orange Gatorade bottle," and then "swore, made threatening gestures towards Aussie players."
The report also alleged that Anil Kumble "stormed into the match officials' box to let them know his disapproval over Kohli's dismissal."
It also called Kumble "one of the main instigators of Monkeygate fiasco."
Oz paper on Kumble

"Kohli might be the aggressor in the brazen campaign India is running against Australia's integrity..but coach kumble, one of the main instigators of the Monkeygate fiasco, would appear to have reclaimed his role as the puppeteer behind the scenes."
12 Mar 2017

Aussie media mocks Kohli
In a new low, Fox Sports Australia has nominated Virat Kohli for Vettel of the Week, alongside a Panda, a kitten and a puppy. The joke is in regards to Sebastian Vettel snatching the pole position from Mark Webber in 2013.
Australian media had in 2015, nominated Kohli for "sports jerk of the week."
The latest barb is the aftermath of the Indo-Aus test.
14 Mar 2017

Kohli gets support from Matthew Hayden after Ian Healey's jibe
Australia's former batsmen Matthew Hayden has supported Indian captain Virat Kohli after the former Australian wicketkeeper-batsman Ian Healey said that he was losing respect for Kohli for his constant sledging of the Australian team.
Hayden said that Virat was passionate about the game and he thinks that Virat plays the game to earn respect from his fellow players.
Virat, like I did, always walks the fine line: Matthew

Hayden said, "Virat, like I did, always walks the fine line. We are passionate about the game and we believe that the body language, attitude, temperament, discipline and domination are part of our arsenal."