Sports
Cricket Australia boss James Sutherland takes a dig at Kohli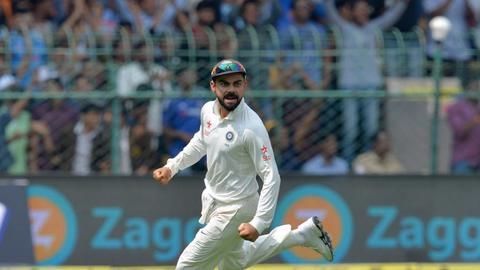 James Sutherland, the Cricket Australia chief, quipped that he is not sure if Virat Kohli knows how to spell 'sorry'.
Sutherland was responding to a question, where he was asked if Kohli should apologize to Steve Smith for questioning his integrity in 2nd Ind-Aus Test.
He added, "perhaps at the end of series boys from both teams can come together and have a laugh."
In context:
Ind-Aus Test : Controversies overshadowing cricket?
The DRS fiasco

Where did it begin?
The Australian tour of India seems to have been mired in controversies and drama, with cricket taking a backseat.
It all started after the 2nd Ind-Aus Test in Bengaluru. Kolhi gave an explosive post-match conference where he just stopped short of calling the Aussie captain Steve Smith a cheat after the latter sought advice from dressing room for a DRS call.
The brain fade episode

While Smith on his part admitted to wrong doing in the DRS incident and called it a 'brain fade' moment, captain Kohli wouldn't have it saying it couldn't have been a brain fade.
Love Sports news?


Stay updated with the latest happenings.
Details

Kohli the target of Aussie media
Virat Kohli has been continuously targeted by the Australian media throughout the Test series.
The Oz media has taken the 'mental disintegration' tactics to whole new level by attacking Kohli every way possible.
They had accused him of misbehaving with an Aussie official by throwing a bottle at him. They also went on to mock Virat by calling him the "Donald Trump of cricket".
Clarke

Former Australian skipper Michael Clarke defends Kohli
Former Australian captain Michael Clarke defended Kohli and said, "Comparing Kohli with Donald Trump - what a load of shit is that".
He said that "two or three Australian journalists are trying to tarnish Virat's image which he shouldn't be bothered about."
Cheteshwar Pujara also came in support of Kohli calling him a 'great leader' and stressed that Team India stands by the captain.
24 Mar 2017

Cricket Australia boss James Sutherland takes a dig at Kohli