Sports
Santosh Trophy: Goa set up the title clash with Bengal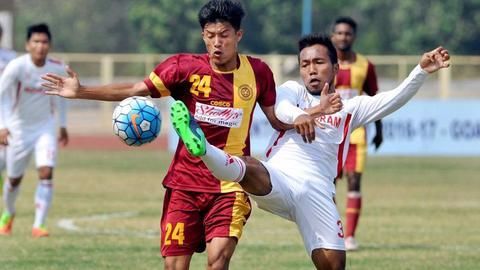 Hosts Goa are all set to lock horns with former champions West Bengal in the Santosh Trophy final.
Goa warded off a stiff challenge from Kerala to come on top with a scoreline of 2-1 in the semis.
In the other semis, West Bengal prevailed over Mizoram 6-5 in penalty shootout, after failing to break the 4-4 deadlock in regulation and extra time.
In context:
Santosh Trophy 2016-17
Tournament summary

What is the Santosh Trophy?
Santosh Trophy is an annual Indian football tournament contested by states and government institutions.
The tournament began in 1941. It was named in the memory of President of the Indian Football Association , the late Maharaja Sir Manmatha Nath Roy Chowdhury of Santosh (now part of Bangladesh). He also donated the trophy.
West Bengal won it the most number of times, 31.
2015-16 winner

The last edition of Santosh Trophy National Football Championships was won by the Services team, which represents the Indian defence services. They beat Maharashtra 2-1 in the final.
Love Sports news?


Stay updated with the latest happenings.
Participating teams

2016-17 Santosh Trophy
The 2016-17 Santosh Trophy is the 71st edition of the season whose final will be hosted by Goa.
10 teams that qualified for the tournament from five zones include: North zone - Chandigarh, Punjab; South Zone - Kerala, Services; West Zone - Goa, Maharashtra; East Zone - West Bengal, Railways; North East Zone - Mizoram, Meghalaya.
The 10 participating teams were divided into two groups of five each - Group A - West Bengal, Goa, Chandigarh, Meghalaya, Services; Group B - Kerala, Mizoram, Maharashtra, Punjab, Railways.
The Group Stage was contested in a round robin format where each team played every other team in their respective group once.
Top two finishers in each group advanced to Semis.
Semifinalists

West Bengal, Goa, Kerala and Mizoram were the two top teams from Group A and B respectively, who qualified for the Semifinals.
24 Mar 2017

Santosh Trophy: Goa set up the title clash with Bengal