Sports
Brazil becomes the first team to qualify for FIFA WC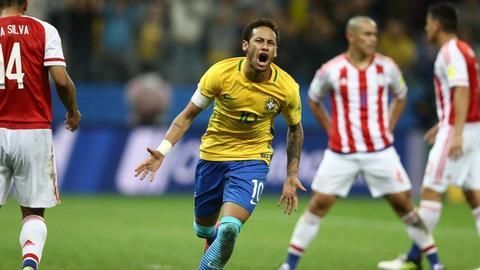 Brazil became the first team to book a spot in the 2018 FIFA World Cup.
They are on top of CONEMBOL table with 33 points from 14 matches.
The five-time World Cup champions won 3-0 against Paraguay. This result along with losses for Uruguay and Argentina meant that mathematically Brazil cannot finish lower than a fourth place in the South American World Cup qualifiers.
In context:
2018 World Cup qualifiers, CONEMBOL updates
South American

CONEMBOL World Cup qualification process
CONEMBOL (South American Football Confederation) World Cup qualification decides which teams would play in the 2018 FIFA World Cup.
Of the 10 teams that take part in it, top four will directly qualify based on their standings after contesting in home-and-away round robin matches against each other.
5th-placed team will have to compete in an inter-confederation play-off to qualify for the World Cup.
10 participating teams

The 10 teams contesting in the CONEMBOL WC qualifying are - Argentina, Colombia, Brazil, Chile, Uruguay, Ecuador, Peru, Paraguay, Bolivia, and Venezuela.
Love Sports news?


Stay updated with the latest happenings.
29 Mar 2017

Brazil becomes the first team to qualify for FIFA WC
Messi ban

Messi-less Argentina lose to Bolivia
Argentina without their star player Lionel Messi, who was handed a 4-match ban, were defeated by Bolivia 2-0.
After the defeat, Argentina dropped to fifth place in points table. With four matches left to go, the Albiceleste must brace themselves for a tough situation in the qualifying stage.
Their best chance unsurprisingly, relies on winning an appeal to have Messi's ban revoked/shortened.
29 Mar 2017

Other results and overall standings
In other results, Colombia had a 2-0 victory over Ecuador in an away match.
Chile beat Venezuela 3-1 at home while Peru upset Uruguay 2-1.
14 of the total 18 matched were played and as it stands Brazil leads the pack, followed by Colombia, Uruguay, Chile, Argentina, Ecuador, Peru, Paraguay, Bolivia, and Venezuela, in that order.
The next fixtures will be in September.