Sports
Mitchell Johnson latest entrant in targeting Virat Kohli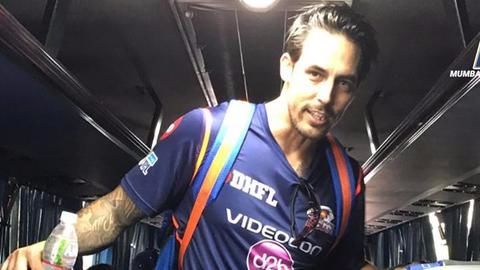 Indian captain Virat Kohli has been receiving criticism from Australians since the start of the India - Australia series last month.
Former Australian bowler Mitchell Johnson became the latest critic of Kohli when he took to Twitter to say, "Rahane should stay captain! It was a tough series but I believe it should stay on the field with the players."
In context:
Aftermath of India - Australia test series
28 Mar 2017

Australian captain apologizes for his emotional slip
Australian captain Steve Smith tendered an apology for his unruly behaviour during the recently concluded Border-Gavaskar series.
He said, "I have been pretty intense throughout this series. I really wanted to do well for the team. At times I have been in my own bubble and have let my emotions slip. I apologize for that."
Details

Steve Smith offers beer to Virat kohli's men
Steve Smith said that he offered beer to his Indian Premier League team-mate Ajinkya Rahane and the Indian team after the hosts clinched the test series 2-1.
He said, "I asked if he wanted us to come in for a drink at the end of the series. He said he'd get back to me."
Smith and Rahane play for Rising Pune Supergiants in IPL.
Love Sports news?


Stay updated with the latest happenings.
Details

Friendship with Australians have changed: Virat Kohli
Indian skipper Virat Kohli said in the post match press conference at Dharamsala that the friendship with the Australian cricketers has changed after the home series.
At the start of the series, Kohli had said that he was really good friends with Steve Smith's men.
However, after the series he said that he was proven wrong and friendship with Aussies has changed for sure.
Australian media slams Kohli after Border-Gavaskar Series

After losing the Border-Gavaskar series, the Australian media has slammed Indian captain Virat Kohli calling him classless, egomaniac, liar and a child. The Australian media has been targeting Kohli since the start of the series and has continued their 'cheap digs' against him.
29 Mar 2017

Mitchell Johnson latest entrant in targeting Virat Kohli
29 Mar 2017

Lehmann praises Rahane, disappointed with Kohli's comments
Australian coach Darren Lehmann has expressed his disappointment over Virat Kohli's 'no longer friends with Aussies' comment.
He said, "Disappointing but that's his opinion isn't it?"
Lehmann added that he did not think that whole Indian team had the same opinion as Kohli and was impressed by India's stand-in captain Ajinkya Rahane. He added he was impressed with Rahane's captaincy.
Love Sports news?


Stay updated with the latest happenings.
30 Mar 2017

Still friends with some Australians: Virat Kohli
India captain Virat Kohli tweeted saying that his comment on 'friendship' with Australian cricketers was blown way out of proportion and that he was still in good terms with few Australians who he has known and were part of IPL team Royal Challengers Bangalore.
He added that the friendship changed with only a couple of players and not the whole team.