Sports
Harikrishna registers his second win at Shenzhen chess Masters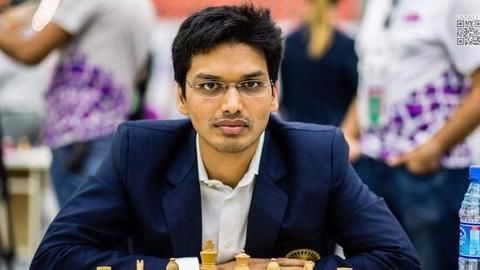 Indian Grandmaster Harikrishna Pentala beat England's Michael Adams at the Shenzhen Masters, to bounce back from his loss in the previous match against Chinese player Yangyi Yu.
This is Harikrishna's second win at the tournament. His first victory was also over Adams.
With three rounds left to play, the Indian is set to face Dutch top seed Anish Giri in the next round.
In context:
Chess : Shenzhen Masters 2017
About the tournament

Shenzhen Masters
Shenzhen-Longgang Grand Masters 2017 is a six-player chess tournament scheduled to take place in the Longgang district of Shenzhen China.
The tournament started on 23 March and ends on 2 April.
It is contested in a double round-robin format where each player faces every other player twice.
The tournament has a prize purse of $90,000 with the winner taking $20,000.
23 Mar 2017

Contestants in fray
The six players taking part in 2017 Shenzhen Masters are - Indian Grandmaster Harikrishna Pentala (14), Anish Giri (11) from Netherlands, Michael Adams (12) from England, Russian player Peter Svidler (20), Chinese players Ding Liren (13), and Yangyi Yu (18).
In the classic time control event, players get 90 minutes for 40 moves, followed by 30 minutes to end the game.
Love Sports news?


Stay updated with the latest happenings.
Bio

Harikrishna Pentala, player profile
The lone Indian participant at the Shenzhen Masters, Harikrishna Pentala is a former Word Junior champion (2004).
In 2001, at 15 years of age, he became India's youngest grandmaster at the time. He first made it into the World Top-100 in 2004.
Currently ranked No.14 in the world , in Nov 2016, Harikrishna broke into Top-10 with a FIDE rating of 2768 points.
01 Apr 2017

Harikrishna registers his second win at Shenzhen chess Masters
Current standings

After 7 rounds, Ding Liren (4.5pts, 2W 5D) leads the points table, followed by Anish Giri (4pts, 1W 6D), Peter Svidler (3.5pts, 1W 5D 1L), Harikrishna (3.5pts, 2W 3D 2L), Yangyi Yu (3pts, 6D 1L), and Michael Adams (2.5pts, 5D 2L).