Sports
Former NFL player Aaron Hernandez hangs himself in prison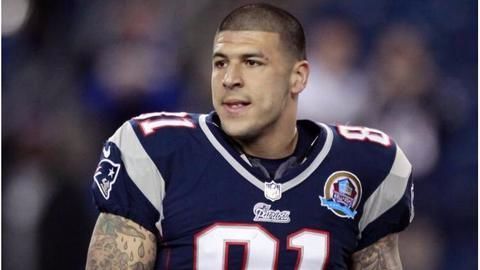 Former New England Patriots' star Aaron Hernandez committed suicide by hanging himself in his cell at Massachusetts' maximum security prison in Shirley.
He was serving a life imprisonment as he was convicted of murdering Odin L. Lloyd in 2013.
The 27-year old was found by officers hanging with a bedsheet tied to the bars of his cell window.
In context:
Life of Aaron Hernandez
About

Who is Aaron Hernandez?
Aaron Hernandez is a former player of American football and was a part of the nation's National Football League team New England Patriots.
He started his senior professional career with the Patriots in 2010.
During his college, he played for University of Florida and was a recipient of the prestigious John Mackey Award, given annually to the nation's best tight end.
Hernandez's career with the Patriots

Aaron Hernandez signed a four year contract with the New England Patriots on 8 June 2010. In 2012, his contract was extended for another fiver years for a whopping amount of $40 million. He was also given a signing bonus of $12.5 million.
Love Sports news?


Stay updated with the latest happenings.
Details

Criminal charges against Hernandez
At the age of 17, Aaron was arrested for hitting a restaurant employee. The case was settled out of the court.
Same year, he was arrested as a suspect in the double shooting case in Gainesville.
In 2012, he was investigated in a double murder case. He was found not guilty of murder, but was found guilty of possessing a handgun illegally.
2013

Hernandez found guilty of murder
On 26 June 2013, Aaron Hernandez was arrested and charged with first-degree murder of Odin Llyod.
After a trial of about two years, he was convicted of the murder and sentenced to life imprisonment without a possibility of a parole.
His girlfriend at that time Shayanna Jenkins-Hernandez was indicted of a perjury charge in the same case.
Patriots release Hernandez two hours after his arres

Two hours after Aaron Hernandez was arrested on charges of the murder of Llyod, New England Patriots released him. In a statement, they said, "Words cannot express the disappointment we feel knowing that one of our players was arrested as a result of this investigation."
19 Apr 2017

Former NFL player Aaron Hernandez hangs himself in prison