Sports
Was Serena Williams pregnant when she won the Australian Open?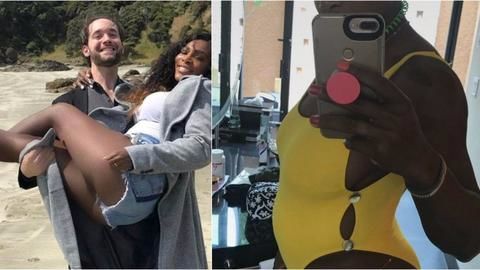 On Wednesday, Serena Williams posted a Snapchat story wherein she was posing sideways in a yellow bathing suit and a protruding stomach.
She captioned the story "20 weeks."
This means she was approximately 2 months pregnant at the time of winning her 23rd Grand Slam singles title!
Williams later deleted the post, but the same was confirmed by her spokesperson Kelly Bush Novak.
In context:
Serena Williams's pregnancy
Childhood

Home-schooling and tennis
Serena Williams was born on 26 September 1981 in Florida.
She started to play tennis at the age of three and her parents Richard Williams and Oracene Price were her early coaches.
She was home-schooled along with sister Venus by her father.
Her father stopped sending her to national junior tennis tournaments after he heard white parents talk about Venus and her in tournaments.
Professional Debut

Reaching the top 100
Serena made her professional debut in 1995 at the age of 14. However, she did not make a good impression and did not play any match in 1996.
In 1997, ranked 304, she defeated world no. 7 Mary Pierce and world no. 4 Monica Seles at the Ameritech Cup Chicago.
She didn't win the tournament, but finished at rank 99 in 1997.
Love Sports news?


Stay updated with the latest happenings.
30 Dec 2016

Serena Williams engaged to Reddit co-founder Alexis Ohanian
One of the most decorated tennis players of the world, Serena Williams, announced her engagement with Reddit co-founder Alexis Ohanian.
Williams, currently ranked second in the world, used the social media platform of Reddit to announce her engagement in form of a poem.
The couple has been dating since the fall of 2015 and have not yet revealed a wedding date.
20 Apr 2017

Was Serena Williams pregnant when she won the Australian Open?
Championing through pregnancy!

In a statement, her spokesperson Novak confirmed that Serena Williams is indeed expecting a baby this fall season. Novak, however, said she wouldn't be playing again this year.
25 Apr 2017

Serena Williams thanks her unborn baby for top WTA spot
A pregnant Serena Williams reclaimed her top spot at the WTA world rankings, and took to social media to thank her unborn baby.
"My Dearest Baby, You gave me the strength I didn't know I had. You taught me the true meaning of serenity and peace," she wrote on Instagram.
"From the world's oldest number one to the world's youngest number one," Williams ended.