Sports
Seven-year-old Indian origin boy wins yoga championship in UK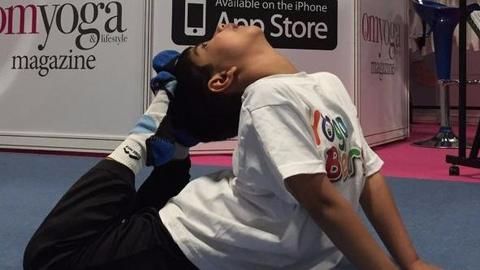 Ishwar Vishwanath, a seven-year-old Indian origin boy won the United Kingdom National Yoga Championship for second time in a row in the under-11 age category.
The competition was organized by UK Yoga Sports Federation on 22 April.
While Ishwar had won a gold in the same tournament last year, his father won a silver medal in the men's category.
In context:
UK's youngest yoga boy!
Ishwar Vishwanath is an Indian origin seven year old boy living in the United Kingdom.
As a six year old, Ishwar was a winner of a gold medal at the UK Sports Federation National Yoga Championship 2016.
His father, Dr. Vishwanath, has been practising yoga for the last 25 years, which led to Ishwar starting yoga at the young age of four.
25 Apr 2017

Seven-year-old Indian origin boy wins yoga championship in UK
Love Sports news?


Stay updated with the latest happenings.
Ishwar to represent UK at World Yoga Championship

Ishwar is all set to represent his country United Kingdom at the World Yoga Championships, scheduled to take place in June later this year. Ishwar has been given a title of 'youngest wonder boy' by a yoga

magazine

.