Sports
Burnley player Joey Barton handed 18-month football ban for betting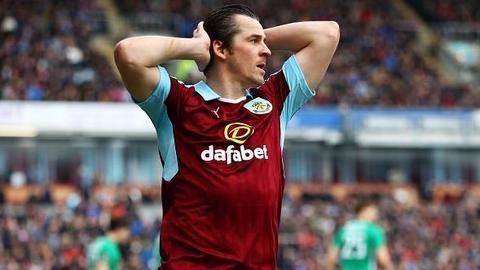 Burnley midfielder Joey Barton was handed an 18-month ban from football by the Football Association (FA).
The 34-year-old player admitted to misconduct charges related to betting, and had placed 1,260 bets on football matches during 26 May 2006 to 13 May 2016.
Barton who also received a fine of £30,000 for the offence, will appeal against the length of the suspension.
In context:
Premier League Football : Joey Barton's FA ban
Who is Joey Barton?

Joey Barton is an English football professional who plays for Premier League club Burnley. Previously, he played for Manchester City (2001-07), Newcastle United (2007-2011), QPR (2011-15), and joined Burnley in 2015. He had short spell at Scotland's Rangers (2016) before rejoining Burnley in Jan 2017.
26 Apr 2017

Burnley player Joey Barton handed 18-month football ban for betting
Love Sports news?


Stay updated with the latest happenings.
Joey Barton bet on his own team to lose

Barton on some occasions placed bet on his own team to lose and said it was an expression of anger and frustration for not being picked but added that he never bet against his team "when in a position to influence the game".
FA on betting

English football's betting rules
According to the FA's new rules implemented in 2014, football players and staff at clubs down to the level of 8th tier of English football are banned from betting on any football match in the world.
Prior to 2014, they were prohibited from betting on matches where they were involved or which they could influence.
Barton was charged under both new and old rules.
26 Apr 2017

Barton says the FA decision 'effectively forces an early retirement'
Barton in an official statement over the ban said that he is "very disappointed at the harshness of the (FA) sanction which effectively forces him into an early retirement."
The former England player who bet on the matches in which he played said, "This is not match fixing and at no point in any of this is my integrity in question."
26 Apr 2017

"Addicted to gambling", says Barton
Barton in his statement said, "I have fought addiction to gambling and provided the FA with the medical report about my problem."
Pointing fingers towards the FA he added, "If the FA is serious about tackling gambling culture in football, it needs to look at its own dependence on gambling companies, their role in football and sports broadcasting, rather than blaming players who bet."
Love Sports news?


Stay updated with the latest happenings.
Betting companies that sponsor Premier League teams

Ironically enough, some of the Premier League clubs are sponsored by top betting companies. This includes : West Ham United - sponsored by Betway, Stoke City - by Bet365, Sunderland, Barton's club Burnley - by Dafabet, Watford - 138 Bet, Hull City - SportPesa, etc.