Sports
I don't mind the Sindhu-Saina rivalry, says Pullela Gopichand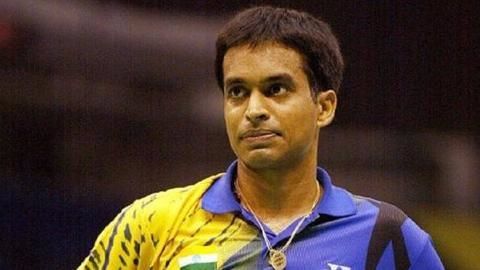 India's national badminton coach Pullela Gopichand said that he doesn't mind the on-court rivalry between his current protege PV Sindhu and the former mentee Saina Nehwal.
Talking about the rivalry between the two Olympic medalists, he said, "If it helps the performance get better, I am happy."
Sindu and Saina recently teamed up for double rubber at the ongoing PSPB inter-unit badminton championship.
In context:
Overview of the Saina-Sindhu rivalry
11 May 2017

The badminton queens of India
Saina Nehwal and PV Sindhu have been the flagbearers of Indian badminton on global arena.
The two Hyderabadis won several laurels for the nation which includes a bronze and silver by Saina and Sindhu respectively.
While Saina has been the trailblazer for the sport in India, Sindhu has been following up to match her compatriot in terms of the major honours won.
Details

Shaping up of the rivalry
The Sindhu-Saina rivalry has its beginnings in 2013 when PV Sindhu emerged as a promising player by winning a bronze at the World Championships, to challenge the numero uno position of Saina.
Over years since, Sindhu who stated that she was "ready for Saina", went from strength to strength to join the top ranks of the badminton elite.
Love Sports news?


Stay updated with the latest happenings.
Titles and honours

Major events tally: Saina vs Sindhu
Saina won 23 titles - 3 Super Series Premier, 7 Super Series, 8 Grand Prix Gold, 1 Grand Prix, and 4 others. She also won the Olympic bronze (2012), and a World Championships silver.
Sindhu won 9 titles - 1 Super Series Premier, 1 Super Series, 6 Grand Prix Gold, and 1 other. She topped them with Olympic Silver (2016), 2 World Championships bronze.
Saina vs Sindu head to head

Saina Nehwal and PV Sindhu faced each other twice in international competitions. They have a 1-1 head-to-head record with Saina winning the first during the 2014 India Grand Prix and Sindhu winning the latest clash at the 2017 India Open superseries.
11 May 2017

Is it right to compare the two?
Sindhu with a great run of wins in the recent months has been in her top form.
Saina on the other hand, recovering from injuries, has been on a dry spell.
It may not be appropriate to compare the two ace shuttlers with one being the pathbreaker and almost close to her career's end and the other in the early stages of her success.
11 May 2017

I don't mind the Sindhu-Saina rivalry, says Pullela Gopichand