Sports
India's Arjun Maini joins Haas F1 team as development driver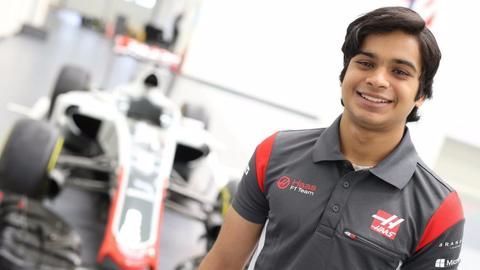 India's Arjun Maini signed up with Formula 1 team Haas as one of its development drivers alongside American Santino Ferrucci.
Maini will be embedded with Haas F1 team at every opportunity, attending races and tests and participating in the team's simulator program.
The 19-year-old from Bengaluru whose focus was to become an F1 driver said, "the opportunity was one step closer towards his goal".
In context:
Arjun Maini, the Indian lad on F1 circuit
Profile

Who is Arjun Maini?
Born on 10 Dec 1997, Arjun Maini is a racing driver from Bengaluru who currently competes in the GP3 series for the team Jenzer Motorsport.
He won his maiden title in 2007 at the Rotax Mini Max National Championship.
Maini moved to Europe after winning the Force India F1 team's "One in a Billion" Indian racing driver talent competition in 2011.
2015 and on

Maini's GP3 career
In 2015, Arjun Maini finished fourth in the standings of Toyota Racing Series New Zealand, with 2 wins, and 5 podiums. This led to his GP3 career in 2016.
In 2016, he competed in 14 of the 18 races in GP3 and finished 10th in the championship.
2017 GP3 series, set to begin on 12 May, will be Maini's second stint with GP3.
Love Sports news?


Stay updated with the latest happenings.
12 May 2017

India's Arjun Maini joins Haas F1 team as development driver
The third Indian to test F1 waters

Arjun Maini is only the third Indian to make it to an F1 squad after Narain Karthikeyan and Karun Chandhok. Chandhok incidentally is Maini's mentor and manager.
12 May 2017

About Haas F1 team
Haas is a relatively new team on the F1 circuit having made its debut in 2016.
Its current racers are France's Romain Grosjean and Denmark's Kevin Magnussen.
The American team is looking to improve from its eight place in the constructors standings last season.
The team principal Guenther Steiner said that they "will keep a keen eye on Arjun Maini's progress this year."
15 May 2017

Arjun Maini wins his maiden GP3 race in Barcelona
Three days after being signed as Haas F1 team development driver, Arjun Maini went on to win his first GP3 series race at the Circuit de Catalunya, Barcelona.
In what was Arjun's first win in two years, he finished 6 seconds ahead of France's Dorian Boccolacci and Jenzer Motorsport teammate Alessio Lorandi from Italy.
He stands third in the overall 2017 GP3 series standings.