Sports
Tennis set for radical changes, trials at U-21 ATP Finals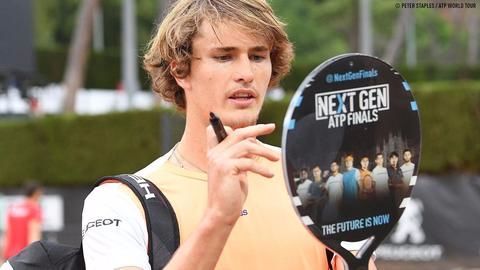 A host of new tennis rules will be trialled in Milan at the "Next Gen ATP Finals", the inaugural edition tournament for the top under-21 players.
The changes include short sets, shot clocks, and no lets.
The move according to ATP, is aimed at creating a "high-tempo, cutting edge, and TV-friendly product", for attracting new and younger fans towards the sport.
In context:
ATP's Next Gen Under-21 tournament and new rules
Details

The "Next Gen ATP Finals"
The "Next Gen ATP Finals" is an under-21 version of the ATP World Tour Finals, featuring eight of the world's best U-21 professionals.
The inaugural edition of the tournament will take place from 7-11 Nov 2017, at the Fiera Milano Stadium, Milan, Italy.
It has a prize money of $1.275 million and the format includes two round robin groups, followed by semis and final.
17 May 2017

Tennis set for radical changes, trials at U-21 ATP Finals
Love Sports news?


Stay updated with the latest happenings.
Quicker matches

What are the changes?
Shorter Format - Sets will be first to four games instead of the existing first to six. Tie breaker will be played at 3-3, with a sudden death point at deuce (no 'advantage scoring').
A "no-let" rule for serves, shorter warm-up period of 5 minutes instead of the current 10, and strict enforcement of 25-secs rule between the points, using clock.
Other minor changes

The new rules also include aspects like inclusion of player coaching, wherein players will be allowed to communicate with their coaches at certain points during the match, medical time out limited to one per player per match, and free movement policy for spectators.
17 May 2017

One of the many sports to try shorter format
As the TV audiences are changing, attracting and keeping the fast-paced younger generation hooked to sports that can go as long as 5 hours (in case of tennis) is a tough challenge for the administrators.
The need for evolution pushed tennis to experiment like some of the other sports which implemented shorter formats like Cricket (IPL), Snooker (Shoot Out), Golf (Golf Sixes), etc.