KKR's journey from an underdog to a two-time champion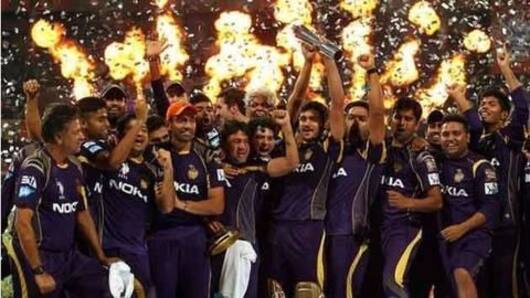 KKR, which was being projected as one of the favorites to win IPL 2008, had a disastrous season. Their poor form continued for the next three seasons as well.
But the team, whom every cricket expert had written off, has managed to win two IPL trophies.
Let us revisit KKR's journey from an underdog to a two-time champion.
In context
How did KKR manage a turnaround?
Details
Venky Mysore's managerial strategies
After joining KKR in 2010, Venky Mysore took some tough decisions to let-go 'famous players yet poor performers' before going into the 2011 auction.
With a huge database created by their own staff, Mysore and KKR coach went on to pick new faces, and did not just go after the big names. Mysore trusted statistics over fame to pick his players.
Venky's data analysis similar to Sabermetrics?
The closed example of how data analysis was used by Mysore Venky is Sabermetrics. Widely used in baseball, it is an analysis to measure the in-game activity. Sabermetrics helps in evaluating players on various aspects like batting, pitching, and fielding.
Love Sports news?
Stay updated with the latest happenings.
Notify Me
2011
Auction that changed KKR's future
2011 IPL auction is what defined KKR 2.0. With almost zero players in their kitty, Mysore created a team from scratch at this auction.
The most important addition was Gambhir, who was bought for Rs11.4 crores.
Mysore said, "We did a lot of digging and homework because once you release all the players, there's no think-tank, other than your head coach and support staff."
2017
Unconventional strategies of skipper Gambhir
Gambhir is known for his unconventional yet effective strategies. He reads the conditions well and adapts his captaincy accordingly.
In IPL 2017, Gambhir pulled out a surprise card by sending off-spinner Sunil Narine to open the innings and in hindsight Narine's fastest fifty was a defining moment for KKR in IPL10.
His belief on his players is one of the reasons of this turnaround.
Calculated risks with bowlers
A wise student of the game, Gambhir is known to take calculated risks as a skipper. By using the right mix of pacers and spinners in the death overs and powerplays, Gambhir has displayed his prudence as a captain.