Sports
FIFA World-Cup 2022: Amnesty accuses Qatar of human rights violations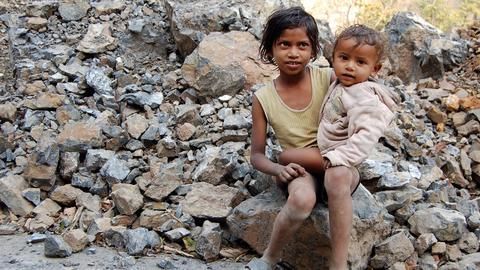 Amnesty International has stated that despite highlighting gross human rights abuses among workers building infrastructure for Qatar's 2022 FIFA World Cup, the country did little to improve the situation.
They were particularly concerned with conditions of labourers who worked on the Khalifa International Stadium, which will be inaugurated next week.
They said systematic human rights abuses were still prevalent among labourers.
In context:
Human Rights abuses for Qatar 2022 WC?
Kafala System

What is the Kafala system?
The Kafala system is a system used to monitor migrant labourers, working in the construction and domestic sectors in West Asia.
In Qatar, the system is enforced particularly harshly.
Among the most troubling aspects of the system is that workers cannot leave the country without the sponsor's permission.
Employer consent is required to change jobs, get a driver's license or open a checking account.
Work conditions

Labourers describe 'pathetic' work conditions
Migrant workers in Qatar said they were required to pay exorbitant fees to recruiters to get jobs in Qatar and that they were paid less than half of what was promised.
They also said their passports were confiscated and they were threatened when they complained about work conditions.
They were also reportedly threatened that their passports would be destroyed if they complained about pay.
Love Sports news?


Stay updated with the latest happenings.
Over 1200 dead

Qatar WC 2022: Over 1200 migrant workers dead
A report by the International Trades Union Confederation claimed that over 1200 migrant workers died in Qatar while building infrastructure for the FIFA 2022 World Cup.
According to information collected by the ITUC from the embassies of India, Nepal and Bangladesh at least 600 workers died every year between 2010-2013.
Qatari officials denied the report, stating it used unverified and exaggerated statistics.
April 2016

FIFA committee to monitor Qatar working conditions
FIFA President Gianni Infantino said an independent committee will be set up to monitor working conditions at Qatar's 2022 World Cup venues.
The move was an attempt by the world football's governing body to ease fears of human rights abuses in the preparation for the 2022 World Cup.
Amnesty International welcomed the move as "a step in the right direction."
20 May 2017

FIFA World-Cup 2022: Amnesty accuses Qatar of human rights violations
Details

Some details of the allegations
Amnesty International said that several contractors who employed labourers still went with the Kafala system and had withheld passports of workers, an offence under Qatari law.
They had conducted a random check of 10 contractors and reportedly found human rights violations in every single one.
So far officials from FIFA, who are said to be monitoring construction, have not commented.
Love Sports news?


Stay updated with the latest happenings.
Many migrants at risk in the future: Amnesty

James Lynch, Amnesty's deputy director for global issues said, "With hundreds of thousands more people being recruited to build and service at least seven more World Cup stadiums, along with the infrastructure, many more migrant workers are at serious risk over the next five years."