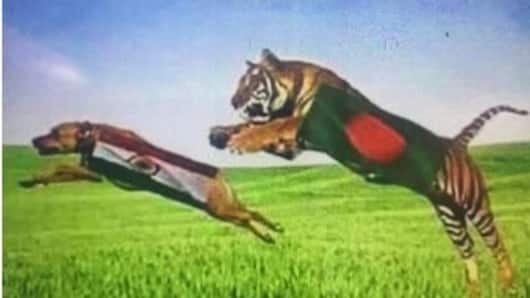 Ahead of India clash, Bangladesh fans start playing ugly
Continuing their tradition of bad sportsmanship, Bangladesh fans have started battles on social media ahead of the Champions Trophy semi-final clash against India.
An image of a tiger with Bangladesh's flag chasing a dog with India's flag on it has been doing rounds of the Internet.
While this is not the first time Bangladesh have disrespected India, have they stooped too low this time?
Bangladesh accuse ICC of siding with India
Bangladesh fans went bitter after the 2015 World Cup quarter-final match, when India defeated Bangladesh by 109 runs.
They accused ICC of favoring India, when Rubel Hossain almost dismissed Rohit Sharma on 91. However, with the ball being above the waist-line, it was given a no ball and Sharma went on to score 137.
This did not go well with the Bangladeshi fans.
Do Bangladeshi think the world is conspiring against them?
One of the historic matches (quarter final against India in World Cup 2015) in the history of Bangladesh cricket was overshadowed by controversy when Bangladesh fans threw accusations against the ICC on social media. This definitely hampered the team's image in the cricketing world.
Love Sports news?
Stay updated with the latest happenings.
Yes, notify Me
Bangladesh newspaper publishes a derogatory image
After Bangladesh registered a victory against India in a home series, a local Bangladesh's newspaper published an image of seven Indian cricketers, with half shaven heads, with Mustafizur Rahman holding a razor.
The image was captioned "Mustafizur cutter", implying on how he had troubled Indian batsmen with his slower deliveries and cutters. Mustafizur had made his debut in the first match of the series.
Another photoshopped image goes viral
Ahead of the 2016 Asia Cup T20 finals, a photoshopped image of Bangladesh pacer Taskin Ahmed holding former Indian captain MS Dhoni's severed head made rounds on the social media. This image again proved the lack of sportsmanship amongst the Bangladeshi fans.
However, Dhoni gave it back to Bangladesh as he hit the winning six to defeat Bangladesh by eight wickets in the finals.
Mustafizur trolled back after controversial tweet
After India lost to West Indies in the semi-finals of the 2016 World T20, Mustafizur tweeted that the result was 'happiness.' However, after a backlash he clarified that he was a 'big West Indies fan' and then deleted the tweet.