Champions Trophy- What went wrong for India against Pakistan?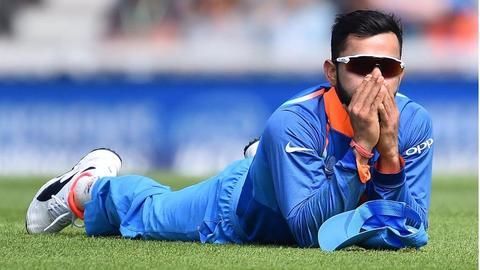 India suffered one of the biggest defeats at the hands of Pakistan in the finals of the 2017 ICC Champions Trophy.
Even with the best batting team in the world, India failed to chase the target of 339 as Pakistan bowlers delivered one of the best performances.
Let us analyze what went wrong for India and why did India fail against the arch-rival Pakistan.
In context
Why did India lose against Pakistan?
A tactical mistake?
Kohli's decision to bowl first?
Kohli's decision to bowl first on a flat pitch was probably the first wrong move by the captain.
India have a strong batting line up and it would have been a wiser decision to bat first and set a big target for Pakistan, just like the first game of the tournament.
Pakistan would have been more under pressure while chasing a big total.
Bowlers' flop show
No-ball, wides and failure to create opportunities
Indian bowlers lost their momentum after a fine start in the opening overs.
Zaman got a lifeline in the fourth over, and went on to smash a world class century.
The bowlers gave away too many extras and failed to break partnerships, and thus were on a back foot against the Pakistan batsmen.
These extra deliveries are unacceptable at the international level.
Love Sports news?
Stay updated with the latest happenings.
Notify Me
Details
Ashwin's defensive mindset?
Indian off-spinner Ravichandran Ashwin failed to pick up a wicket in his 10 overs, and gave away 70 runs.
While the pitch was not supportive for the spinners, Ashwin kept bowling on the leg stump, giving Pakistan batsmen an easy route to hit big runs.
He did not even try to deceive the batsman, and instead was on the defensive track from the start.
Batting
Indian batsmen were in a hurry to chase
Indian batsmen were off to a poor start for the first time in the tournament, with Rohit Sharma going back in the very first over, followed by Virat Kohli in the third over.
They failed to build partnerships and rise up to the occasion, apart from Hardik Pandya's 76-run innings.
Pakistan bowlers completely dominated Indian batsmen without giving them a chance to score runs.
Pakistan too good for India?
While India failed to perform in both the batting and the bowling departments, Pakistan played like a winner and deserved to win. A century from Fakhar Zaman and Mohammad Amir's three quick wickets kept Pakistan's momentum high throughout the match.