Manchester United boss Jose Mourinho accused of tax fraud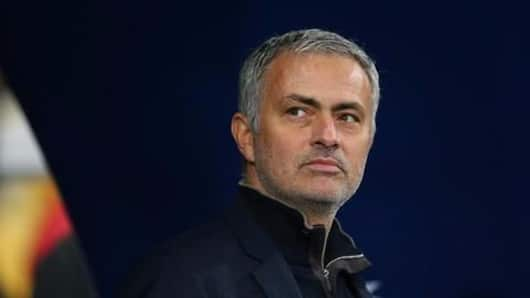 Spanish prosecutors accused Manchester United manager Jose Mourinho of tax fraud during his managerial stint with Real Madrid.
They filed the claim on two cases of tax evasion in 2011 and 2012.
Mourinho allegedly owes €3.3 million to the Spanish tax authorities.
This comes after reports about Real Madrid star Cristiano Ronaldo testifying in his tax evasion case on 31 July.
In context
Another controversy of Manchester United boss, Jose Mourinho
Investigation
Prosecutors investigating his time as Real Madrid's head coach
A Madrid court is dealing with the tax claim filed by Spanish prosecutors.
To receive an "illicit benefit", Mourinho had allegedly not declared his income from a company in the British Virgin Islands to which he had assigned his image rights.
The Portuguese, who spent three seasons (from 2010 to 2013) with Real Madrid, is yet to respond to the accusation.
Details
About: Mourinho's early coaching days
Jose Mourinho is a football coach from Portugal who currently manages English football club Manchester United.
He started as an interpreter for Bobby Robson with Sporting Club Portugal in 1992; he ventured into coaching and moved to Porto in 1993.
He worked as assistant manager for Barcelona (1996-2000), manager with Benfica (2000) and Uniao de Leira (2001-02), and coach of Porto (2002-04).
Love Sports news?
Stay updated with the latest happenings.
Notify Me
Career Graph
Highs and Lows: Real Madrid to Manchester United
In 2010, Mourinho moved to Real Madrid, which won the 2011-12 La Liga title; he spent three seasons (2010-13) with the football club.
In 2013, he returned to Chelsea, which registered their fourth Premier League title in 2014-15.
However, owing to the club's poor performance in 2015-16, Jose was sacked in Dec'16.
In May'16, he was appointed as the manager of Manchester United.
Controversies
The controversial one: Mourhino and controversies
Jose Mourinho has a bad reputation for his antics and often gets into trouble for his comments.
The controversies include a sexual discrimination lawsuit against him filed by former-Chelsea doctor Eva Carneiro, whom Jose allegedly insulted using foul language in 2015.
Leading to a controversy, in 2016, he questioned referee Anthony Taylor's suitability to officiate match at Anfield.
Banned
Jose banned, fined for his comments and behavior
In Oct'15, he was fined £50,000 for making aggressive remarks about referees.
In Nov'15, he was handed one-match stadium ban and £40,000 fine for trying to speak to referee Jon Moss during half-time and using foul language.
In Nov'16, he was handed one-match touchline ban and fined £58,000 for two FA misconduct charges, including usage of abusive language and commenting on referee Anthony Taylor.