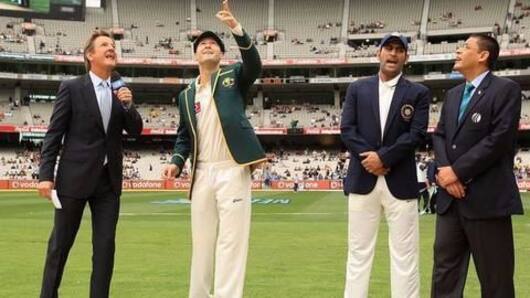 Traditions in cricket we have put behind
Over the years, cricket has adopted many traditions which have become the talking point in the world, like the colorful dress worn by the Marylebone Cricket Club members, tea break in test matches and many more.
However, with changing time, some of the legendary traditions have disappeared.
Let us have a look at some of them which have now been forgotten!
A day in the middle of the test
A rest day in between the test matches was a regular tradition until the 1980s.
It was generally taken between the third and the fourth day of the test, to give players some time to relax.
However, with more and more people coming to watch the game, the rest day is gone. Largely speaking, no one misses it- neither the fans nor the players.
Chennai's showpiece event
Similar to the Boxing Day test match in Melbourne starting 26 December every year and New Year's Test in Sydney, India had its very own Pongal test, played during mid-January in Chennai, when the city used to celebrate holidays.
However, the tradition continued for only eight years, with the last test played in 1988 when debutant Narendra Hirwani picked up 16-wickets against West Indies.
Love Sports news?
Stay updated with the latest happenings.
Yes, notify Me
No more 'only whites' in cricket
Cricket moved towards colored dresses in the late 1970s and it became a regular feature since 2000. While white kits are only used in test cricket now, teams in T20 leagues have two kits for them- one for home matches and other for away.
Changing colors of bat and ball
Red ball has been a traditional sight in cricket. However, with colored kits came the white ball and introduction of day-night test matches also presented us with the pink ball.
First used in a game between Australia and New Zealand, pink ball has now reached English county cricket.
In a first, black bats were used in Big Bash League, only to be banned later.
Toss made optional
In 2016, the English County Championship decided to scrap the centuries old tradition of a coin toss before the match. Instead the visiting team is now given a chance to decide if they want to bowl first, failing which the toss takes place.
No 60-overs-a-side match and 8-ball over
Long before the ODIs were official in 1971, there were 60-overs-a-side matches which were played for almost 20 years. However, the last 60-overs match was played between India and West Indies in the 1983 World Cup and since then 50-overs ODI became a standard.
The six-ball over came in 1979-80, before which a over used to be of four, five, and eight balls.
No more runners for batsmen
In 2011, the International Cricket Council decided that a batsman will not be given a runner in case of injury or cramps. ICC scrapped the runners due to disagreements over how to use them.