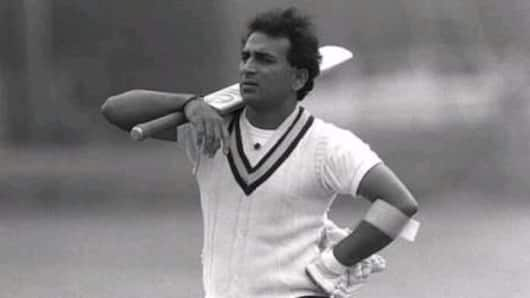 Happy Birthday 'Little Master'
India's legendary cricketer Sunil Gavaskar turns 68 today.
Widely known as the 'Little Master', Gavaskar is undoubtedly India's one of the finest and stylish batsmen.
He played for the Indian cricket team for 16 long years, and was even a part of the 1983 World Cup winning team.
Let us have a look at some of the interesting facts about him.
Gavaskar's career in numbers
Gavaskar scored 10122 test runs from 125 matches, hitting 34 centuries with the highest score of 236*. His average of 51.12 is still one of the best in the cricketing history. He also played 108 ODI matches and scored 3092 runs.
Gavaskar was swapped with a fisher-woman's child after birth
Born with a small hole in his left ear lobe, Gavaskar was mistakenly swapped with another child right after his birth.
His uncle, 'Nan-kaka' recognized the other child by his ear and searched the whole hospital for Sunil, and found him besides a fisher-woman.
If his uncle would have not been there, who knows, Gavaskar might have become a fisherman.
Love Sports news?
Stay updated with the latest happenings.
Yes, notify Me
A family of cricketers?
Sunil Gavaskar is not the only cricketer in his family. His uncle Madhav Mantri was a former Indian wicketkeeper batsman. Gavaskar's son, Rohan, was also a cricketer. Gavaskar's sister was also a cricketer and former Indian batsman GR Viswanath is his brother-in-law.
A wrestling fanatic to a cricketer
As a child, Sunil Gavaskar was a huge fan of Indian wrestler Maruthi Vadar and wanted to become one.
However, his cricketing ambition started when he saw his uncle's Indian team pullover.
He made his debut in 1971 against West Indies and scored 774 runs in the series. He is the only Indian to score a century and a double in his debut series.
A song for the debutant
After he smashed West Indies in his debut series, Lord Relator wrote a song for Sunil Gavaskar, named 'Gavaskar Calypsothe.' The song starts like 'It was Gavaskar, the real master, just like a wall.'
Cricketing records
Sunil Gavaskar was the first batsman in the history to score 10000 runs in test cricket. With 34 test centuries, he also broke Don Bradman's record of 29 test centuries, a record which stood for more than three decades.
He is the only cricketer to score four consecutive centuries at two venues- Port of Spain & Wankhede stadium.
A double-centurion in all innings
Sunil Gavaskar is also the only cricketer who has scored a double hundred in all the four innings of a test match in his career.
The writer, actor and commentator
Gavaskar became a commentator after his retirement from international cricket.
He was a lead actor in a Marathi movie 'Savli Premachi', did a cameo in Naseeruddin Shah's film Maalamaal in 1988 and also sang a Marathi song.
A prolific writer, he has penned down four books - Sunny Days, Idols, Runs 'n Ruins and One Day Wonders.