Ravi Shastri demands his choice of bowling coach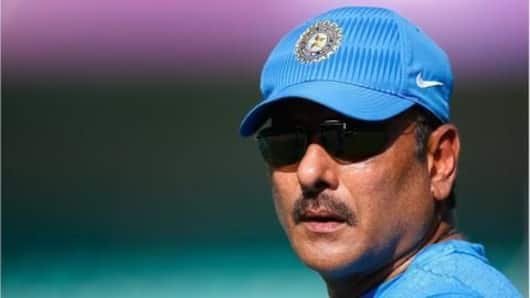 Newly-appointed coach of the Indian cricket team, Ravi Shastri, is set to have a meeting with Committee of Administrators to discuss his choice of bowling coach even after Zaheer Khan's appointment.
Reportedly, Shastri wants Bharath Arun as the bowling coach, who was with the team from 2014-2016.
Shastri said that as a coach, he is entitled to take a call on the supporting staff.
In context
Why isn't Ravi Shastri supporting Zaheer Khan?
One particular CAC member against Shastri's wishes?
According to a report in the Times of India, when Ravi Shastri had asked for Arun as his choice of bowling coach, one particular member of the Cricket Advisory Committee (CAC) had shown his disinterest in Shastri's demands.
Details
Shastri not taken into confidence before Zaheer's appointment
Even though Zaheer Khan's role would be similar to Rahul Dravid's role of being a consultant, it is speculated that Ravi Shastri was not taken into confidence before Zaheer's appointment.
A bowling coach needs to be with the team for more than 250 days a year, which will not be possible for Zaheer, given his other commitments.
Love Sports news?
Stay updated with the latest happenings.
Notify Me
Shastri okay with Zaheer as consultant?
While the newly appointed coach is adamant to have Arun on board as the full time bowling coach, it is reported that he is okay with Zaheer Khan working as a consultant to the bowlers.
Details
BCCI yet to finalize contracts
BCCI is yet to sign contracts for the new appointments of the Indian cricket team.
Last year, Zaheer could not come on board as BCCI rejected to pay Rs. 4 crore demanded by him.
A top BCCI official said that Zaheer can have a look at the contract once prepared and travel with the team to Sri Lanka for upcoming tour.
Former pacer Venkatesh Prasad's name floating around?
A source from the BCCI told that former Indian pacer Venkatesh Prasad was also in the race for the job of the bowling coach. However, Shastri is clear that he wants Bharath Arun in the team.
14 Jul 2017
No contracts for newly appointed coaches, yet
The Committee of Administrators (CoA) has put the contracts, of the newly appointed coaches of the Indian cricket team, on hold for now.
The CoA has asked to see the drafts when they meet on Saturday; the decision about Zaheer Khan's role could also be finalized in this meeting.
Given the situation, Shastri's demand to have Bharath Arun as bowling coach could be accepted.
15 Jul 2017
Ravi Shastri to meet BCCI officials; Zaheer, Dravid only recommendations
A meeting will be held on Tuesday between Ravi Shastri and the four-member Committee of Administrators (CoA) of the BCCI for the selection of further coaches.
CoA chief Vinod Rai said for coaches' selection Ravi Shastri will be present at the discussion.
Rai also said that Cricket Advisory Committee (CAC) hadn't appointed Zaheer Khan and Rahul Dravid but given recommendations.
18 Jul 2017
Instead of Zaheer, BCCI appoints Bharat Arun as bowling coach
Putting an end to all the drama, BCCI announced that it has appointed Sanjay Bangar as Assistant Coach and Bharat Arun as the bowling coach of the Indian cricket team.
They have been appointed till the next World Cup which will happen in England in 2019.
Earlier, Zaheer Khan was recommended as the bowling coach but allegedly Ravi Shastri was not in his favor.