Siblings who played international cricket for Australia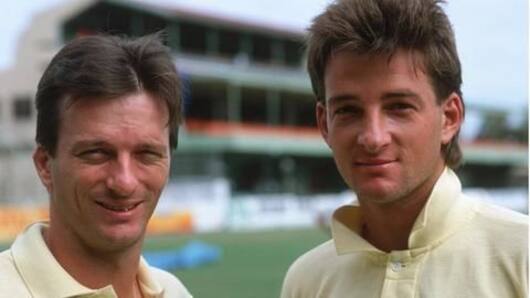 Australia is a cricketing powerhouse which has given the world some of the best cricketers.
To add to the fans' delight, there have also been several instances when a pair of siblings have played in the same team and contributed to the team's win.
Let us have a look at such pairs, who have represented Australia in tests, ODIs and T20s over the years.
In context
Double Trouble: The siblings in Australian cricket
Waugh Brothers
Cricket's most famous twins
Former Australian captain Steve Waugh and his twin brother Mark were the pillars of Australian cricket for several years.
They made their international debut three years apart. Together they scored more than 35000 runs and were a part of the legendary test team which won 16 consecutive matches.
While Steve was known for his captaincy, Mark was famous for his stroke playing ability.
Legends
Greg and Ian Chappell
The Chappell brothers were Australia's top batsmen between 1960s to 1980s.
Elder of the duo, Ian captained the team from 1971-75, just before Greg took over the reins. While both were successful as captains, Greg overshadowed Ian's achievements with his amazing batting skills.
Ian was often critical about Greg's tactics used to win the game and did not shy away from showing his displeasure.
Love Sports news?
Stay updated with the latest happenings.
Notify Me
The Blackwell sisters
Alexandra (Alex) and Kathryn (Kate) Blackwell were the first identical twins- male or female - to represent Australia in international cricket. Apart from being a part of 2005 World Cup winning team, the duo battled each-other for a middle order spot in the team.
Hussey Brothers
Reliable, T20 specialist duo
Michael and Davis Hussey did not make an early entry in the international cricket.
However, Michael soon became the 'go-to man' for the Australians whenever the team required a bail out.
On the other hand, David could not find a permanent place in the team, but made a name for himself by playing in various T20 tournaments over the world.
Marsh brothers
The family of cricketers
Sons of former Australian cricketer Geoff Marsh, Shaun and Mitchell have played tests, ODIs and T20s for Australia.
They were a part of Australian test team which toured India earlier this year and have made their name around the world with their quick and aggressive batting style in the T20 leagues.
Almost nine years younger, Mitchell is also a handy medium pacer.