Eight Indians killed in UK's deadliest road accident in years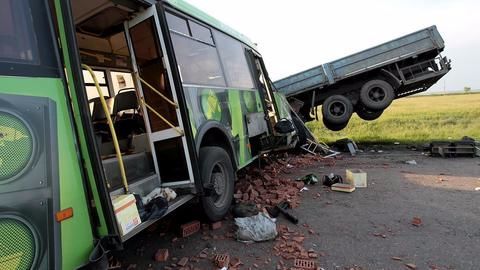 Eight Indians were killed and four injured in what is being called the worst accident on UK roads in 24 years.
The mishap took place in the morning of August 26 at Newport Pagnell (Buckinghamshire), when a minibus collided with two trucks.
The minibus was carrying a group of Wipro employees.
One of the truck drivers has been charged with drunken-driving. Both were arrested.
In context
Eight Indians dead in fatal UK accident
Victims
The Indian victims  who died or were injured
Among the victims were three Wipro employees- KR Pugalu, RR Kumar and Vivek Bhaskaran. Pugalu's wife died but their five-year-old daughter is injured.
Another employee, MR Panneerselvam, and his wife are injured, but he lost his parents and uncle.
The driver, an Indian, also died.
The group was about to embark on a Europe trip. They were travelling to London to board the Eurostar.
Action
The last such fatal accident was in November'93
Four people were pulled out of the wreckage alive. Cops are continuing investigation and have asked anyone with any knowledge about the mishap to come forward.
Both truck drivers have been charged with relevant offences. They are scheduled to appear in court.
The last such fatal accident was in November 1993, when 12 kids and their teacher died in a bus crash.