World
Falkland Islands becomes an issue of debate again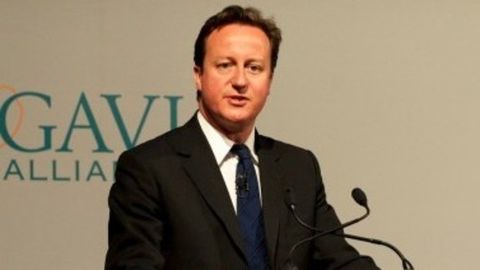 British PM David Cameron defended United Kingdom's claim to the Falkland Islands when confronted by Argentina's foreign minister at the summit in Brussels.
Hector Timerman's claims that the islands belonged to Argentina were considered "threatening" by Cameron.
This is the first instance where the two have come face to face after Argentina raised concerns over British defense budget expansions in Falklands.
In context:
Bone of contention for England and Argentina
2 Apr 1982

Britain and Argentina clash over Falkland Islands
The Falkland Islands War was fought between Argentina and Great Britain in 1982 over control of the Falkland Islands.
In a bid to reclaim the territory, Argentina captured the Islands.
The UK sent a task force which won back the land it had ruled for 150 years.
655 Argentine and 255 British soldiers lost their lives, as did 3 Falkland Islanders.
It's nothing but another 'oily' dispute

The feud between Argentina and Britain got reignited around 2010 when British companies began to drill in waters off the islands, a move Argentina has formally objected to.
Love World news?


Stay updated with the latest happenings.
9 Jun 2010

US calls for talks over Falkland Islands
US has joined Latin American countries in demanding fresh talks between Britain and Argentina over the sovereignty of the Falkland Islands.
Hillary Clinton, the US secretary of state, told the Argentine president that she supported talks over the island's sovereignty.
This marks a clear shift from the neutral position adopted by Ronald Reagan's administration on the Falklands sovereignty issue.
12 Mar 2013

Falklanders vote to stay a part of England
On 12 March, 92% of the population had come out in the wind and rain to cast their votes.
1646 (99.8%) votes were cast in favour "of retaining their status as a United Kingdom overseas territory."
However, the Argentina government of President Cristina Fernandez de Kirchner said that the referendum did not have any legal value.
27 Mar 2013

Argentina urges UN to "wear down" UK
Argentina's foreign minister on Tuesday called on UN leader Ban Ki-Moon to "wear down" British resistance to talks over the sovereignty of the Falkland Islands.
Hector Timerman, the Argentine Foreign Minister said that Britain had rejected as many as 40 resolutions by the UN Decolonisation Committee calling for negotiations between the two countries on sovereignty.
UN backs Argentina in the dispute

On 26 June 2014, UN's Decolonisation Committee approved a new resolution urging UK and Argentina to negotiate a solution in the "Falklands situation".
Love World news?


Stay updated with the latest happenings.
9 Apr 2015

Falkland Islands dispute getting warmer
UK and Argentina summoned each others' ambassadors for fresh talks.
Argentina wanted the explanation from Britain for the increased defense budget and on Edward Snowden's claims that the UK had spied on the Argentine government since 2009.
Argentina has also filed criminal charges against 5 British oil companies for carrying out exploration activity in Falklands without the permission of Argentina's Energy Secretariat.
12 Jun 2015

Falkland Islands becomes an issue of debate again
30 Mar 2016

Argentina welcomes UN decision on Falkland islands
Argentina's government celebrated a decision by a UN commission expanding its maritime territory in the South Atlantic Ocean by 35% to include the disputed Falkland Islands.
The UN Commission on the Limits of the Continental Shelf ruled that Argentina's maritime territory would extend to 300 milles off its coast.
The Argentine foreign ministry said that its waters had increased by 1.7 million square kilometers.