Florida braces for 'devastation' before category five Hurricane Irma's landfall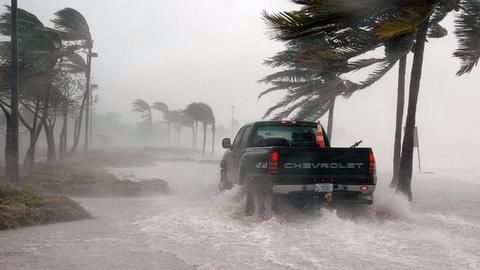 The head of the US federal emergency agency Brock Long said the category five Hurricane Irma will either "devastate" Florida or its neighboring states.
Irma has left a trail of destruction in the Caribbean, flattening and inundating islands, killing at least 23 people and affecting another 1.2 million.
It's expected to reach Florida, where 5.6 million people have evacuated.
In context
Millions evacuated in Florida ahead of Hurricane Irma
Danger
Irma to bring 270km/h winds to Florida
Hurricane Irma is the first category five storm to hit Cuba since 1924.
Once it hits Florida on Sunday, Irma is expected to bring 270km/h winds, the US National Weather Service (NWS) said.
Long said it's going to "devastate the United States in either Florida or some of the southeastern states."
"The entire south-eastern United States better wake up and pay attention," he added.
Impassioned plea
Governor urges evacuation, says: 'We can rebuild homes, not life'
Florida Governor Rick Scott said: "We are running out of time. If you are in an evacuation zone, you need to go now."
"Remember, we can rebuild your home, we can't rebuild your life," he added.
President Donald Trump said: "Florida is as well prepared as you can be for something like this. Now it's just a question of what happens."
Love World news?
Stay updated with the latest happenings.
Notify Me
Other states
Georgia and South Carolina also preparing for Hurricane Irma
Flights to and from Florida are being suspended. The evacuations have led to huge traffic jams on interstate highways.
The NWS has said hurricane and storm surge warnings have been issued for south Florida and the Florida Keys.
Irma is expected to move towards Georgia and South Carolina after lashing Florida's Atlantic coast.
A mandatory evacuation has been ordered for Georgia's Atlantic coast.
Barbuda destroyed
95% buildings in Barbuda suffer damage from Irma
The dual-island nation of Antigua and Barbuda was first to be hit by Hurricane Irma.
In Barbuda, home to around 1,600 people, PM Gaston Browne said around 95% of the buildings had suffered some damage.
"The island is literally under water. In fact, I'm of the view that, as it stands now, Barbuda is barely habitable," Browne said.
The 80,000-population Antigua escaped major damage.
Warning
More hurricanes are coming
Hurricane Jose, another storm in the Atlantic behind Irma, has been upgraded to category four status with winds of 240km/h. It's following a similar path as Irma, affecting relief efforts in the Caribbean.
Meanwhile, Katia, a storm in the Gulf of Mexico, has been upgraded to a category two hurricane status with winds of 140km/h.