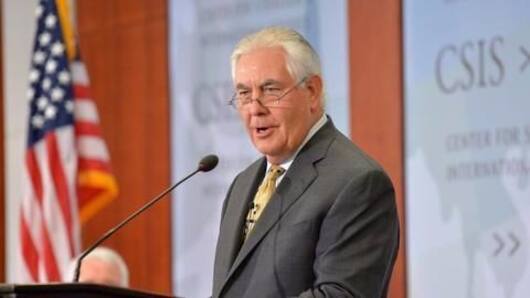 Rex Tillerson: Trump wants to "dramatically deepen" ties with India
Ahead of his visit to India next week, US secretary of state Rex Tillerson in a policy address at the Washington-based Center for Strategic and International Studies outlined how US views relations with India.
He highlighted that "The Trump administration is determined to dramatically deepen ways for the US and India to work together."
What else did he say? Read on to know more!
'India's FDI jumped 500% in two years'
In his speech "Defining Our Relationship with India for the Next Century," Tillerson recalled PM Narendra Modi and US president Donald Trump's June summit saying that both sides wanted to build an "ambitious partnership."
He said more than 600 US companies were operating in India and FDI had jumped to 500% in the past two years alone. Thus, the economic partnership is also flourishing.
India should take on a leadership role in regional security
Tillerson specified that US envisions the Asia-Pacific region's stability based on the partnership between Australia, Japan, India and the US.
He also lauded India's efforts for building peace in Afghanistan and urged it to take on a greater role in the region.
He promised the US will help India to develop its defense, security and economic capacities to meet challenges from a rising China.
Love World news?
Stay updated with the latest happenings.
Yes, notify me
'170mn Indian Muslims but hardly any in ISIS ranks'
Tillerson said India is an excellent example of a "diverse, dynamic and pluralistic country" in the age of "global terrorism." He asserted that India includes about 170 million Muslims but there are hardly any in ISIS ranks which indicate "the strengths of Indian society."
'Pakistan should take action against terrorist groups within own borders'
Earlier, Trump, while unveiling his Afghanistan policy, slammed Pakistan for "harboring terrorists" and asked it to take constructive action against them.
Tillerson reiterated this saying that though Pakistan is an important partner, it is expected to take strict action against terrorist groups.
He said India-US counter-terrorism cooperation has increased significantly; both are cross-screening known terrorists and will convene a new dialogue later this year.
'China, while rising alongside India, has done so less responsibly'
About China, Tillerson said unlike India, China rose on the world stage "less responsibly" at times even undermining "international, rules-based order."
He praised India for being committed to the "rule of law" and for protecting other "nations' sovereignty".
He lashed out at China's South China policy and "predatory economics," wherein China burdens countries with enormous debt and pushes for repayment, forcing them to default.
Meanwhile, Xi Jinping fires veiled salvos at US
Meanwhile, Chinese President Xi Jinping, while speaking at the 19th People's Congress that decides the Chinese communist party's policy agenda for the next five years, said Beijing will be completely engaged with the world, taking a potshot at Trump's "America first" policy.
He also asserted China's commitment to tackle change in a veiled reference to US pulling out of the Paris climate change agreement.