World
New Delhi "open" to US-India-Japan-Australia quadrilateral strategic dialogue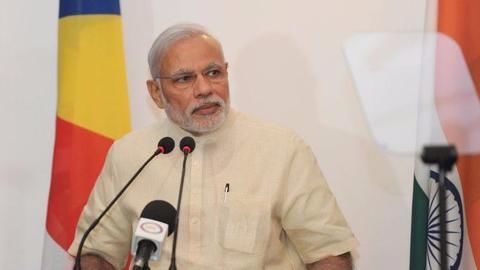 Japan and America are reportedly urging India to join them and Australia to form a quadrilateral strategic dialogue to counter China's growing regional assertiveness.
Responding to questions over the proposed grouping, Indian MEA spokesman Raveesh Kumar said, India has an "open mind" to work with "like-minded countries" on agendas relevant to it.
"We are not rigid in this regard," he added.
In context:
India open to quadrilateral strategic dialogue in Indio-Pacific
27 Oct 2017

Japan to propose strategic dialogue with India-US-Australia to counter China
On October 27, it was reported that Japan would be proposing the creation of a quadrilateral strategic dialogue between it and the US, India, and Australia, according to Japanese foreign minister Taro Kono.
Japanese PM Shinzo Abe would likely propose the dialogue idea to US President Donald Trump when the two hold a summit meeting on November 6.
28 Oct 2017

New Delhi "open" to US-India-Japan-Australia quadrilateral strategic dialogue
Love World news?


Stay updated with the latest happenings.
Explained

India cites "broad acceptability" of similar initiatives while expressing openness
Kumar said India has embarked on multiple trilateral initiatives because of their "broad acceptability."
He gave the example of last year's Russia-India-China meeting over the Asia-Pacific, and the India-Sri Lanka-Maldives dialogue on Indian Ocean security.
He said the India-US-Japan dialogue has been active for several years and recently, the India-Japan-Australia dialogue also went forward.
"All these meetings are conducted at various levels," Kumar said.
US welcomes Japan's quadrilateral dialogue proposal

Meanwhile, a senior Trump administration official welcomed news of the proposed quadrilateral dialogue, saying it would be a "natural stepping stone" to the engagement with India, Japan and Australia it currently has. The official refuted claims that the proposed dialogue is aimed at containing China.
Details

Australia had played spoiler for similar quadrilateral dialogue previously
Japanese PM Shinzo Abe had proposed the US-India-Japan-Australia Quadrilateral Security Dialogue.
An "in principle" assent was given by India for this but Australia's then PM Keven Rudd withdrew in an apparent bid to assuage China's concerns.
Since then, Australia's decision has lingered in India's mind and even prevented India from including Australia in the Malabar naval exercises with Japan and America.