World
UN official: War-torn Yemen might face world's biggest famine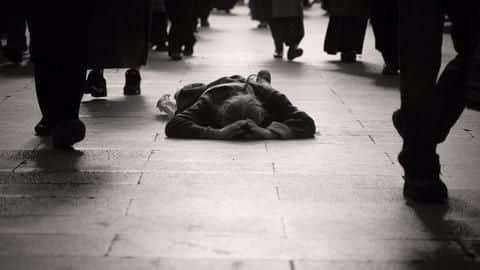 The war in Yemen has left the country in tatters and has rendered life a living hell for common citizens.
A senior UN official has now said that the country may face the "world's largest famine in decades" if its people don't receive aid soon.
He urged the Saudi-led coalition to lift a recently-imposed blockade on Yemen to allow people to receive aid.
In context:
Yemen conflict: Millions suffer amid deteriorating humanitarian situation
26 Jun 2017

Yemen facing the world's worst cholera outbreak: UNICEF, WHO
On June 26, it was reported that more than 200,000 people in Yemen were suffering from cholera, with 1,300 already having lost their lives.
The revelation was made in a statement released by UNICEF and WHO, which termed it "the world's worst cholera outbreak".
This happened in the backdrop of the collapse of Yemen's health and sanitation systems in the ongoing civil war.
09 Nov 2017

UN official: War-torn Yemen might face world's biggest famine
Love World news?


Stay updated with the latest happenings.
State of affairs

Yemen in crisis
Yemen has been embroiled in a two-year-long conflict between the government forces backed by Saudi Arabia and the Houthi rebels.
The Houthis currently control a majority of the country including the capital city of Sanaa.
The conflict has resulted in a total collapse of the country's health, water and sanitation systems leading to severe food shortages and overcrowded hospitals.
Details

Saudi Arabia imposes blockade on Yemen
The Saudi-led fighting coalition recently imposed a blockade on Yemen after Houthi rebels fired a ballistic missile at Riyadh.
The coalition shut all land/sea/air routes to Yemen to choke arms-supply routes from Iran.
UN and Red Cross have warned that the blockade is obstructing the supply of life-saving aid material to Yemen creating a "catastrophic situation" for Yemen's people.
What did the UN official say?

The UN Under-Secretary General for Humanitarian Affairs, Mark Lowcock stated that "unless those measures are lifted... there will be a famine in Yemen. It will be the largest famine the world has seen for many decades with millions of victims," he warned.
Conclusion

Yemen requires urgent international attention
Yemen's grave humanitarian crisis is being fuelled by multiple factors, including a population under siege, economic crisis and a complete systemic collapse.
Although aid agencies, including the International Committee of the Red Cross and the UN, are working hard on the ground, the massive scale of the crisis requires urgent international attention.
In the absence of this, millions of Yemenis risk starving to death.