World
EU says that Brexit is "getting dramatic"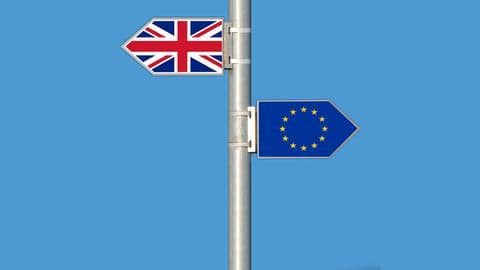 Brexit negotiations are significant as they concern the future of both the UK and EU.
Despite a pressing need for a breakthrough in the negotiations, both sides seem to be wavering.
Neither side can even agree on whether the talks should be called "negotiating rounds" or "information exchanges."
A senior EU official has said that if status quo continues, Brexit could get "dramatic."
In context:
Will Brexit negotiations be delayed further?
What is Brexit?

The process for Britain's exit from the EU was triggered following the results of a June 2016 referendum, in which 52% of the voters said Britain should leave the Union. 'Leave' supporters wanted Britain to be rid of EU regulations, including the harmonized economy.
10 Nov 2017

EU says that Brexit is "getting dramatic"
Love World news?


Stay updated with the latest happenings.
Context

What context is Brexit happening in?
Britain triggered Article 50 of the Lisbon Treaty, intending to enter into negotiations with 27 EU members to exit the EU in March 2017.
Since then, numerous differences have cropped up between the EU and Britain, as well as different political constituencies in Britain.
While the EU has accused the UK of magical thinking, UK considers Europeans to "massively over-egg their financial demands".
State of affairs

What do EU, UK say about the state of affairs?
The UK's chief negotiator David Davis maintains that a lot of progress has been made in the negotiations. However, his EU counterparts don't entirely agree.
Sir Simon Fraser, an ex-top official at UK's foreign office had earlier alluded to the drawbacks on the British side and stated that it had been "a bit absent" from the negotiations.
He attributed this to inter-cabinet differences.
Differing priorities

Brexit negotiations: Differing priorities hinder progress
The EU prefers the negotiations to be held in Brussels to make coordination with all 27 member states easier.
Britain is seeking flexibility so its negotiators can easily consult London on crucial matters.
Moreover, citizens' rights are a top priority for EU.
Meanwhile, the UK wants trade and transition issues to be prioritized, something EU members are unlikely to back under current circumstances.
Details

What else is stalling Brexit negotiations?
All 27 EU states agree that Britain should pay EU under commitments it made as a member of the bloc.
Moreover, countries such as Poland and Sweden are keen to proceed with the talks while Germany and France are more cautious.
The EU insists that it can work without a precise figure but desires a solid assurance from Britain to proceed with negotiations.
Love World news?


Stay updated with the latest happenings.
Future negotiations

EU officials: UK has two weeks to pay up!
According to a top EU official, Britain has to decide on payments within two weeks, ahead of the annual EU leaders summit in December.
If this isn't the case, the EU won't be able to solidify its own position and is unlikely to concede to Britain's demand to include trade matters.
This could delay talks up to March 2018 extending the uncertainty over Brexit.