All 44 crew-members of missing Argentine submarine feared dead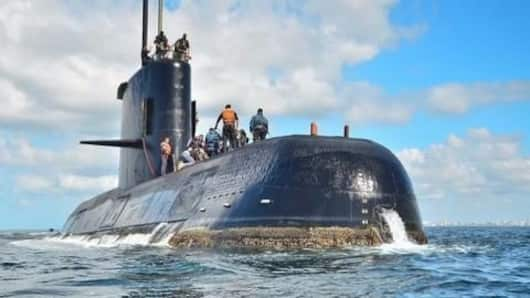 On November 15, the ARA San Juan, an Argentine submarine, went missing at sea with 44 crew-members on board.
Since then over a dozen countries, including the US and Russia, have sent assistance to locate the submarine.
On November 24, the Argentine Navy said that a suspected explosion was detected in the south Atlantic last week, dashing any hopes of the submarine's survival.
In context
How did Argentine submarine San Juan go missing?
What transpired?
Submarine had reported "electrical breakdown"
The ARA San Juan had surfaced and reported an "electrical breakdown" while returning from a routine mission to Ushuaia, South America's southern-most tip.
The submarine was ordered to return to an Argentine naval base immediately.
On November 15, it reported that the problem had been sufficiently fixed and that it would submerge and head to the base.
This was the last contact with submarine.
Details
Explosion reported close to submarine's last known location
The Argentine Navy said two hydro-acoustic stations of a Vienna-based nuclear weapons watchdog had detected a signal from an "underwater impulsive event."
The US also reported a "hydro-acoustic anomaly" hours after the submarine's disappearance.
The Argentine Navy said these explosions took place close to the vessel's last known location.
Search efforts are now being concentrated in that area.
Love World news?
Stay updated with the latest happenings.
Notify Me
Reactions
Family of crew react with grief and anger
Family members of the crew members were informed about the suspected explosion shortly before it was revealed to the press.
Some relatives reacted with anger while others collapsed in grief and tears.
Some family members have accused the Argentine navy of raising false hopes and lying to them.
Others allege that the lack of government investment and corruption in defense made the vessel unsafe.
01 Dec 2017
Argentina abandons rescue mission to find missing submarine
The Argentine Navy has abandoned efforts to locate ARA San Juan, a submarine with 44 crew members on board that went missing on November 15.
"Despite the magnitude of the efforts made, it has not been possible to locate the submarine," the Navy said.
A suspected explosion reported close to the submarine's last-known location had dashed hopes of finding any survivors.