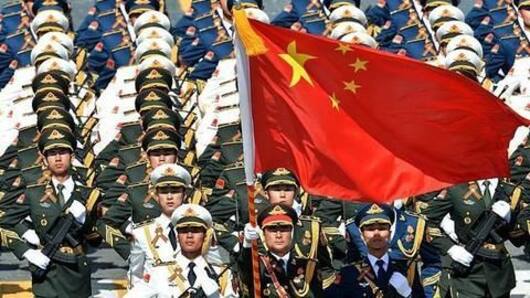 Reports: 1,800 Chinese troops deployed at Doklam during winter
In a first, around 1,600-1,800 Chinese troops have been deployed in the Doklam area, close to the Sikkim-Bhutan-Tibet trijunction, during winter.
The Chinese troops have constructed two helipads, roads, dozens of pre-fabricated huts, shelters and stores in preparation against the harsh winter, the Times of India has reported.
Since the Doklam standoff's resolution in August, Indian troops have maintained the status-quo with Chinese forces.
What was the Doklam standoff?
On July 18, Indian troops objected to China's attempts at building a road towards the Jampheri ridge in Doklam, a Bhutanese territory claimed by Beijing.
This culminated in the standoff between Indian and Chinese troops.
The Indian troops were acting on Bhutan's invitation.
On August 28, the Doklam standoff ended with both India and China agreeing to pull back their troops.
Source: Chinese troops would pull back during winter
"Earlier, PLA patrols would come to Doklam, which is disputed between China and Bhutan, between April-May and October-November every year to mark their presence and lay claim to the area before going back," a source told TOI.
Love World news?
Stay updated with the latest happenings.
Yes, notify me
India has "achieved its strategic objective"
Indian security officials said that India has "achieved its strategic objective" of not allowing China to extend its existing road in Doklam towards the strategic Jampheri ridge, that overlooks the vulnerable Siliguri corridor connecting the Northeast states to the rest of India.
However, there has been "the almost permanent stationing of People's Liberation Army (PLA) troops in the region."
What's the ground situation like at Doklam?
Since the resolution of the Doklam standoff, there has been relative calm between Indian and Chinese troops, deployed at a distance of 500 meters from each other.
Both India and China have increased their troop deployment along the Line of Actual Control (LAC).
China has upgraded an existing motorable road in Doklam.
However, no road construction towards the Jampheri ridge has taken place.