World
Warning shots fired as North Korean soldier defects across border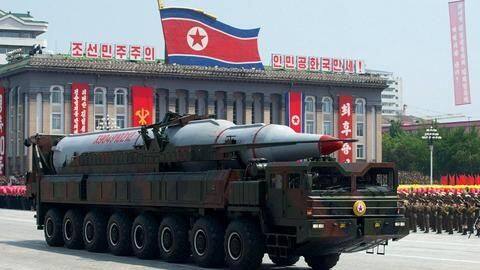 A North Korean soldier crossed the heavily fortified Demilitarized Zone (DMZ) into South Korea, the fourth such defection this year.
South Korean troops were forced to fire warning shots at North Korean guards who were searching for the defecting soldier.
The incident comes amid simmering bilateral relations.
It comes weeks after the dramatic defection of another North Korean soldier across the DMZ.
In context:
Another North Korean soldier defects across border
13 Nov 2017

North Korean soldier shot while defecting across heavily guarded DMZ
On November 13, a North Korean soldier was shot and injured by his own military as he crossed the heavily garrisoned Demilitarised Zone (DMZ) into South Korea.
The defecting soldier made it to the South Korean side of the Joint Security Area (JSA) in Panmunjom.
The soldier, who received six bullet wounds, was rushed to hospital in a helicopter where he underwent emergency surgery.
21 Dec 2017

Warning shots fired as North Korean soldier defects across border
Love World news?


Stay updated with the latest happenings.
What happened?

South fired warning shots as North's troops approached border
South Korea's defense ministry said its troops fired around 20 warning shots as North Korean border guards approached the border, seemingly to search for the defecting soldier.
Later, 40 gunshots were heard coming from the North but none of the bullets crossed the border.
The North Korean soldier defected across the border in Gangwon province and was taken into custody in the South.
Explained

North Korean defections surge in 2017
Four North Korean soldiers have defected this year compared to just one last year.
Overall, 15 North Koreans have defected across the border into South Korea in 2017. Last year, just five defections took place.
Fewer defections take place through the DMZ, one of the world's heaviest armed strips of land.
Most North Koreans defect through the China border before heading to South Korea.