US, Turkey to resume full diplomatic services after row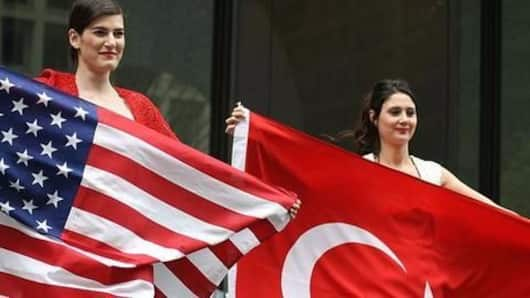 The US has agreed to resume diplomatic services in Istanbul after the Turkish government provided security assurances to American consular staff.
In October, both sides had suspended visa-services after Ankara arrested and detained a local employee with the US consulate in Istanbul.
The US state department expressed confidence that "the security posture had sufficiently improved."
Here's all about it.
In context
US-Turkey normalize relations post-diplomatic row
The trigger: Turkey arrests US consulate employee
In October, Turkey arrested and detained Metin Topuz, a Turkish citizen employed at the US embassy, on charges of espionage and attempts to damage "constitutional order." At the time, Washington termed the arrest "deeply disturbing."
Details
What security assurances has the US received?
Turkey assured the US state department that its Turkish employees weren't being investigated.
It also guaranteed Washington that no staff will be detained or arrested while performing official duties.
The US has expressed concerns over the arrests of its Turkish staff and US citizens since the 2016 coup.
At least 11 US citizens are currently believed to be imprisoned in Turkey.
Love World news?
Stay updated with the latest happenings.
Notify Me
Turkey responds
The Turkish embassy in Washington welcomed US decision and said that visa services for American-citizens will be resumed. It expressed concerns about Turkish-nationals being tried in US courts and added that it hadn't provided any assurances to Washington on ongoing cases against US embassy staff.