Relief for Indians: US denies considering changing H-1B extension policy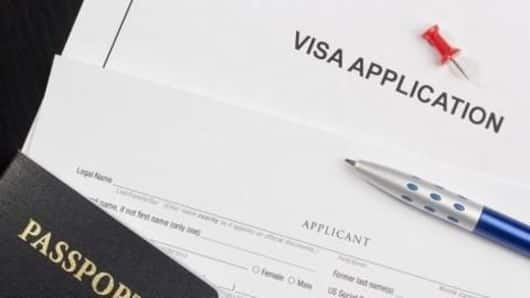 A week after reports emerged that the Trump administration was considering tightening H-1B visa rules that could lead to deportation of 7,50,000 Indians, the US has denied them.
Publications had said it was mulling ending extensions for H-1B holders whose applications for Green Cards have been accepted.
Even if it were true, people would have other options to fall back on, assured the USCIS.
In context
No disturbance to H-1B visa program for now
About
The H-1B program and its significance for India
The H-1B visa program allows foreign skilled workers to work in the US. In 2016, 72% of H-1B visas approved went to Indians.
The H-1B visa has a three-year validity and can be renewed for another three years.
If approved for Green Card, workers can stay on using extensions, but Indians often have to wait years considering the massive backlog and per-country cap.
Proposal
Reports said US mulling changing the way extensions are granted
The administration was reportedly examining the "may grant" clause that leaves the decision on extension on the discretion of US Citizenship and Immigration Services (USCIS).
It's empowered to grant extensions from one to three years and often choose the maximum. However, "it can theoretically decide not to grant extensions at all," a lobbyist had said.
This could have forced 5,00,000-7,50,000 Indians to return home.
Love World news?
Stay updated with the latest happenings.
Notify Me
Clarification
No such proposal under consideration, USCIS claims
Jonathan Withington, Media Relations Chief at USCIS, said it's considering no such proposal, but "even if it were, employers could request extensions in one-year increments under section 106(a)-(b) of AC21 instead."
However, it is reviewing employment-based visa programs under the Buy American, Hire American initiative, he said.
Advocacy group Immigration Voice said it had succeeded "in...getting USCIS to change its policy regarding H-1B renewal."
Reason
Was external pressure the reason behind the change in decision?
Reports say the change in decision came due to intense pressure from the business and technology sector; American companies would have been impacted more than their Indian counterparts since they are likelier to apply for Green Cards for their workers.
But Withington refuted such reports and maintained the USCIS was never considering such a policy change anyway.