North Korea, South Korea commence first talks in 2 years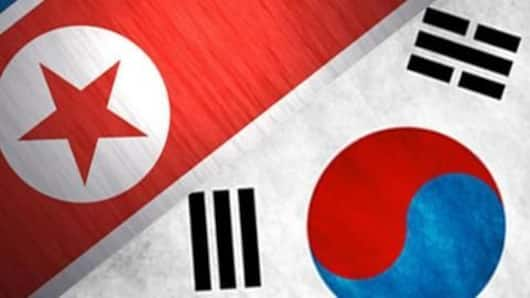 The situation in the Korean peninsula had been extremely tense over North Korea's aggressive pursuit of its nuclear program all through 2017.
In a move that can potentially ease tensions, North and South Korea have commenced their first round of talks in 2 years at Panmunjom, the truce village at the Demilitarized Zone (DMZ) that divides the two regions.
Here's more about it
In context
Can North Korea and South Korea repair ties?
How?
How did the talks come about?
In his New Year address, North Korea's leader Kim Jong-un had indicated that he might send a delegation to the upcoming Winter Olympics hosted by South Korea in Pyeongchang between February 9-25, 2018.
Seoul responded with an offer to commence dialogue. Following this, the two countries restored the diplomatic hotline which had been suspended almost two years back.
Talks
Seoul: Talks not just about Olympics, but about improving ties
"We will do our best to ensure that the Pyeongchang Olympics and Paralympics will take place as a peace festival," stated Cho Myung-Gyun, South Korea's unification minister and leader of its delegation.
He also revealed that the dialogue will focus on North Korea's participation in the games.
The two sides may also thrash out ways to improve ties between the two countries, he added.
Love World news?
Stay updated with the latest happenings.
Notify Me
What?
What happens if the talks succeed?
If Pyongyang is on board, the two countries' delegations may make joint-entrances at the opening and closing ceremonies like they did in Sydney (2000), Athens (2004) and the Turin Winter Olympics (2006).
While only two of its athletes have qualified, Pyongyang may send its female cheerleaders who are quite popular in South Korea.
Pyongyang may even send a high-level delegation including Kim's sister Yo-Jong.
Challenging priorities
What about the more challenging priorities?
While issues relating to the Winter Olympics may be relatively easy to sort out, the two countries might also lay several challenging priorities on the table.
Seoul might push for resumption of family reunions, a demand Pyongyang has snubbed multiple times in the past.
The North, in turn, might demand for ending joint US-South Korea military exercises in the Korean peninsula.
Trump hopeful about North Korea-South Korea talks
In response to the positive development, US President Donald Trump recently stated that he hoped the talks would "go beyond Olympics." He was also hopeful that Washington may join the two countries at the negotiating table at a later stage.