Pakistan's Katas Raj temple seeks visitors as pond runs dry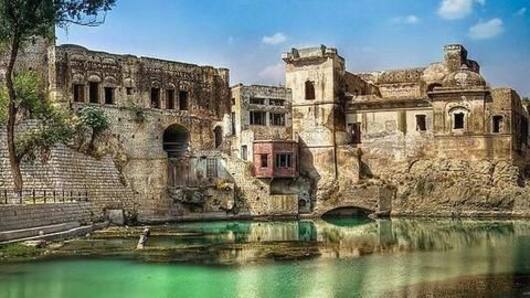 The sacred pond in the Katas Raj temple complex of Pakistan, the Amrit Kund, is on the verge of running dry.
Groundwater levels have been depleting since years, and three cement factories in the vicinity haven't helped.
Though a renovation scheme was launched in 2005 and crores of rupees allocated, work was never completed.
The effort now is to draw tourists, especially from India.
In context
Pakistan's Katas Raj temple in need of help
About the 2,300-year-old Katas Raj temple complex
It's believed the Amrit Kund, located in the Kallar Kahar range of the Potohar plateau, was formed from a tear of Lord Shiva that fell after the death of his wife Sati. The Pandavas spent years at Katas Raj during their 14-year exile.
Danger
Despite several efforts, wells have run dry, pond at risk
In 2005, when BJP leader LK Advani visited Pakistan, he inaugurated renovation works at the complex.
However, things have been getting worse. In 2012, the water level fell drastically, but rose somewhat again.
The well on one side of the complex has already run dry. Digging deep wells haven't helped locals.
In 2017, the sacred pond was on the brink of dying out too.
Love World news?
Stay updated with the latest happenings.
Notify Me
Water-carrying pipes, a temporary source, running out now
Last year, the Pakistani SC intervened and urged the Punjab government to fix the problem. After that, a series of pipes were laid from a nearby source to the Amrit Kund. But the source itself is on the verge of running dry this summer.
Plans
Efforts on to lure more tourists to the temple
The priority now for those who look after Katas Raj is to lure more visitors.
The Punjab government, the archaeology department and the Evacuee Trust Property Board have cleaned up the complex and built walkways.
But "much more needs to be done," says Vikas, the pujari, like arranging enough murtis: many were destroyed when locals attacked the temple after the Babri Masjid demolition.
India
Indian devotees can help a lot, says the temple pujari
Vikas says though footfall has increased, visitorship from India had gone down.
Efforts to persuade Indian devotees to bring murtis also haven't borne fruit.
But the Punjab government has some plans, like building an accommodation structure to cater to tourists.
However, one controversial plan pertains to building a waterfall-like feature. "It seems they want to convert this into an amusement complex," a historian said.