'Nigeria isn't a shithole': Twitterati honors Oluyinka Olutoye, legendary doctor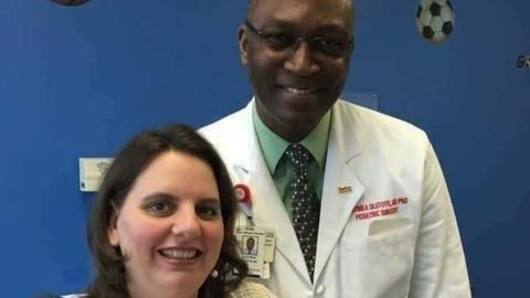 President Donald Trump spouting racist statements is no longer a surprise. Recently, he had discussed whether US should take immigrants from "shithole" countries.
Trust social media users to dig deep and retrieve the most precious gems: they have located Nigerian-origin doctor Oluyinka Olutoye, who achieved a rare feat, to assert how Nigerians are the "most educated immigrants."
Here's the amazing story of Dr Olutoye.
In context
'Nigeria isn't a shithole!': Twitterati slams Trump
Case
The case that threw Dr. Oluyinka Olutoye into the limelight
Margaret Boemer was 16-weeks pregnant when she found out her daughter LynLee, still inside her womb, had sacrococcygeal teratoma.
This is when a tumor develops before birth and grows from the baby's tailbone.
"At 23 weeks, the tumor was shutting her heart down and causing her to go into cardiac failure," Boemer said.
Enter Nigerian-origin physician Dr. Oluyinka Olutoye and his team of doctors.
Success
A healthy LynLee born 13 weeks after a successful surgery
Dr Olutoye and his partner Dr Darrell Cass suggested a foetal surgery, but it had high risks. Still, Boemer agreed.
The five-hour surgery was performed when she was 23-weeks-pregnant.
The tumor had outgrown LynLee's little body. But they managed to take her out of the womb, remove the tumor, and replace her.
Thirteen weeks later, in June'16, LynLee was born, a healthy 2.4kg infant.
Love World news?
Stay updated with the latest happenings.
Notify Me
Social media users take on Trump
Nigeria isn't a shithole @realDonaldTrump

A Nigerian physician, a graduate Nigerian University,Dr.Oluyinka Olutoye.He Removed a baby from its mother's womb at 23 weeks old,Successfully operated on the baby (removed a tumor) and returned it back into the mothers womb pic.twitter.com/tWcS0whS4s

— Abubakar Mohd Kareto (@amkareto) January 22, 2018
Reax
Twitterati post stories lauding Dr Olutoye
Twitterati shared stories of Dr Olutoye with the hashtag 'shithole.' "Did someone say Dr Oluyinka Olutoye is from a #shithole? Ignorance!" posted @aadejuyigbe.
"Put some Respek on Dr. Oluyinka Olutoye coming from a #ShitHole Country," wrote @kenessa_jr.
"(Dr Olutoye's) Primary school education through his first degree was in a #shithole country," tweeted @AdebowaleIG.
Will this teach Trump no country is a "shithole"? Unlikely.