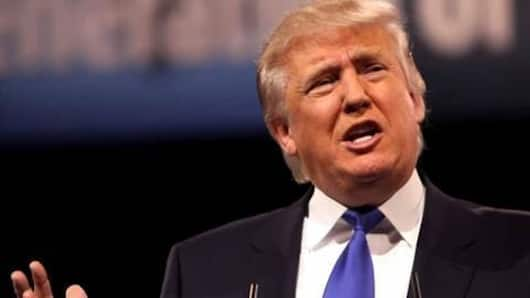 #Davos2018: Trump has made 15 new friends. Who are they?
US President Donald Trump is in Swiss ski-town of Davos to attend the annual shindig of the World Economic Forum (WEF) Annual Meeting.
After a 20-minute speech, Trump sat down for a question-and-answer session with WEF Founder Klaus Schwab. He complemented Schwab for "putting together" the forum and claimed "I think I have 15 new friends."
So, what was Trump referring to? Read on!
What was Trump referring to?
Trump had invited 15 top European CEOs for dinner on the summit's sidelines.
He wanted to discuss business and encourage them to invest in US.
The group included heads of Bayer, Siemens, Nestle, HSBC, AB Volvo, SAP, Adidas, Statoil etc.
They also included three Indian-origin CEOs: Novartis' Vas Narasimhan, Nokia's Rajeev Suri and Deloitte's Punit Renjen.
Deloitte-CEO Punit Renjen: Mr President, thank you for having me
At the dinner, Trump asked the CEOs to introduce themselves. Renjen introduced himself and said "On behalf of 265,000 employees across the globe, 70,000 in the US, thank you again for having us." Trump replied "Great company. Thank you very much. Great job."
Love World news?
Stay updated with the latest happenings.
Yes, notify me
Nokia-CEO Rajeev Suri: Happy with your infrastructure focus
Suri said that Nokia runs the world's second largest telecom network and has 15,000 people and one of the strongest R&D setups in the US.
He added, "We own Nokia Bell Labs in New Jersey. We do a lot of stuff in the West Coast, Chicago, and throughout the country, really."
Praising Trump, he said, "I'm very happy and pleased with your infrastructure focus."
Novartis-CEO Vas Narasimhan: Pleased with your tax reform
Narasimhan explained that health-care company Novartis has about 22,000 employees in the US across 21 locations.
It invests about $14bn every year there, with $3.5bn in research.
He said US is one of the key markets and also promotes innovation.
He praised US's tax reform and FDA department. Trump seconded the praise.
Narasimhan also commended FDA Commissioner Scott Gottlieb's efforts to reduce tobacco use.
Meanwhile, how was Trump's "performance" at Davos?
Meanwhile, attendees were surprised at Trump's "reserved" conduct. It was reportedly in complete contrast to the "combative, loud Trump" that people are accustomed to. Former national economic advisor Gene Sperling said, "He wasn't as terribly offensive and divisive as we've seen other times."