World
Omar al-Bashir flees South Africa ahead of arrest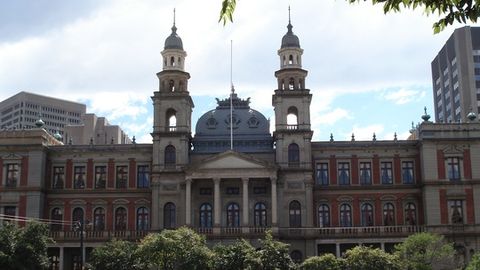 The Sudanese President Omar al-Bashir who was in South Africa, left while the South African High Court was considering his arrest plea.
This move by Bashir is a grave breach of the ruling according to which he could not leave the country till the issue was decided.
The law will also come tough on the ports of the country where he left from.
In context:
Bashir the war criminal flees South Africa
4 Mar 2009

Sudanese president indicted
Omar al-Bashir was indicted for the first time by the International Criminal Court at Hague for the Darfur killings.
The ruling was followed by mass protests in the Sudanese capital of Khartoum.
However, Sudan does not recognise the ICC and Bashir asked the court to "eat" the arrest warrant, which he rubbished as a western plot to curb Sudan's progress and development.
12 Jul 2012

Warrant for the Sudanese barbarian
The arrest warrant for Sudanese president was handed out by the Hague court on 12 July 2012.
Bashir was accused of trying to erase 3 non-Arab groups and facilitating the death of almost 200,000 people since 2003 in the Darfur case.
Bashir had been keeping 2.5 million refugees in camps in Darfur, "under genocide conditions, like a gigantic Auschwitz".
Bashir's crime report card

Bashir has been booked for 5 counts of crimes against humanity, 2 counts of war crimes for intentionally inflicting harm on civilians and 3 counts of genocide by the International Criminal Court.
14 Dec 2014

Probe against Bashir suspended. Will Bashir be punished?
ICC suspended probe into the war crimes in Darfur, a move that was welcomed by the Sudanese president.
This move was seen as chief prosecuter Fatou Bensouda's attempt to put pressure on the UN security council.
This move comes after ICC's inability to act on the outstanding charges on Bashir since 5 years, a move that has raised questions on ICC's viability.
Another 5 years for Bashir as President

Bashir was sworn in the President of Sudan in 2015 for another 5 years. He won the elections by 94% votes due to opposition boycott and a miniscule turnout to cast votes.
14 Jun 2015

SA Court bars Bashir from leaving the country
Bashir was barred from leaving South Africa where he was attending the AU summit after a South African judge's orders.
This was largely criticised by South African President Jacob Zuma who accused the Hague-based ICC of "seeking to impose selective western justice by singling out Africans."
Meanwhile, ICC asked the Pretoria court "to spare no effort in ensuring the execution of the arrest warrants".
16 Jun 2015

Omar al-Bashir flees South Africa ahead of arrest
Third time lucky

Bashir has evaded arrest for the third time. Earlier, he was threatened to be arrested in 2009, ahead of President Jacob Zuma's inauguration and before the World Cup in 2010.
11 Oct 2015

ICC wants India to arrest Bashir
The International Criminal Court (ICC) prosecutor opined that India should "contribute" towards the object of responsibility for the "world's worst crimes" by capturing Omar Hassan Ahmad al-Bashir, the Sudanese President who would be visiting India.
ICC prosecutor said that United Nations Security Council Resolution of 1593 sought cooperation from all international bodies and that it "includes arresting Mr. al-Bashir."
12 Oct 2015

India to host Sudan's Bashir despite ICC warrants
The Indian government illuminated that Sudan's President Omar al-Bashir, indicted of war crimes would be attending the India-Africa summit later in October despite being wanted by the International Criminal Court (ICC).
The Indian government said that it was not part of the Rome Statute that formed the ICC and hence not required to oblige it by restraining al-Bashir.