US woman wants "emotional support" peacock to fly with her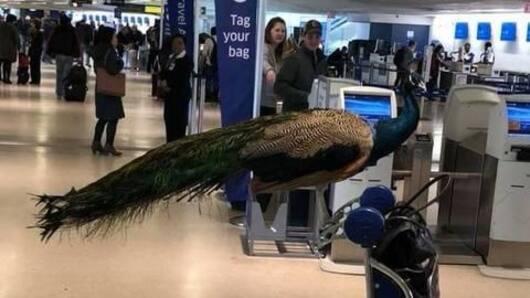 A passenger at US' Newark airport had a bizarre request: she wanted her "emotional support" peacock to fly with her.
She even claimed to have a second ticket for the bird.
But United Airlines, on which she was to fly, remained adamant. The bird didn't meet guidelines for several reasons, it said, "including its weight and size."
Needless to say, the peacock couldn't fly.
In context
United Airlines said no to a peacock onboard
Details
Many are unhappy with United's decision
United said they had informed the unidentified passenger thrice before she came to the airport that the bird wouldn't be able to fly.
They said they're reevaluating their "support animal" policies.
However, not everyone agreed with the airline's decision.
"I'll take the peacock over the 5+ dogs that have attacked my coworkers just this past holiday season," a purported airline staffer commented.
Delta
Animals bite, urinate, defecate and attack others, airlines complain
This comes right after Delta Airlines cracked down on emotional support and service animals.
Now those flying with Delta have to produce a veterinarian health form, immunization records and proof of animal training.
It has refused to allow exotic animals on board too.
The decision came after a reported 84% increase in animal misbehavior like urinating, defecating, biting and attacks on flights.
Love World news?
Stay updated with the latest happenings.
Notify Me
Protest
But clamor for withdrawal of such new policies
However, those who need service animals have protested the move, saying the entire community is being punished because of a few lawbreakers.
"During an emergency travel, I need to travel with my dog...When I'm in my wheelchair I need help," explained Joseph Worley, a former Navyman who lost his leg in war.
The Department of Transportation is now reviewing the airline's new policy.