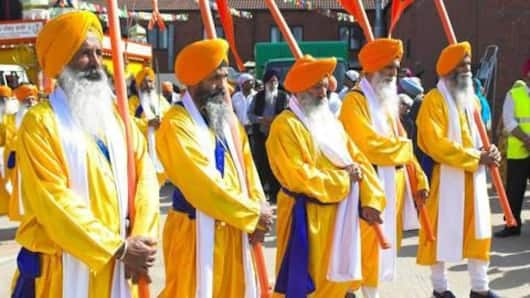 Resurgence of pro-Khalistan sentiment abroad: Should India be worried?
The ban on Indian diplomats entering gurdwaras abroad, that started with India's Consul General in Toronto, Dinesh Bhatia's visit to Dixie gurdwara in January 2017, has now spread across countries.
A new version of Punjab's separatist movement of the 1980s, that demanded Khalistan, is emerging, with Canada as its epicenter.
Is this the second coming of Khalistan? What does it mean for India?
Here's what happened
Credits:
Angered by Bhatia visiting Dixie gurdwara, once a bastion of extremist elements, Sikhs for Justice wrote a complaint to Canada's Foreign Affairs Minister in February 2017.
On December 30, the Ontario Gurdwara Committee banned Indian officials visiting 15 temples in the province.
Following suit, gurdwaras in British Columbia, Alberta, Quebec, Melbourne, the UK and the US also announced similar bans in January 2018.
Not all NRI Sikhs support the move
However, not all members of the Sikh community abroad have endorsed the move.
Some members of the Dixie Gurdwara, the Sikh Spiritual Center in Toronto, gurdwaras in Brampton, and Sikh Society Hamilton Wentworth's Gursikh Temple have opposed the ban, saying they "were not aware of this decision, the issue was never discussed in the committee meeting and no resolution was passed."
Love World news?
Stay updated with the latest happenings.
Yes, notify me
No intervention by the Canadian government
Credits:
Meanwhile, Canada's government has declined to intervene, saying it can't stop the propagation of Khalistan in its country as its citizens are entitled to freedom of expression.
However, Indian diplomats think differently. They say the radicals are finding a permissive climate in Canada.
They suggest that even soft measures, such as greater scrutiny of their funding sources, could help neutralize the growing anti-India sentiment.
Modi's diplomatic initiatives have done little to please hardliners
This resurgent wave is a major setback on Modi's efforts to woo hardliners. In 2015, he became the first Indian PM to visit Canada in 42 years. During his trip, he also visited Vancouver's Ross Street Gurdwara.
Due to his outreach efforts, the visa blacklist was modified, refugees were sanctioned travel documents, talks with Khalistanis began, and Indian officials were again allowed inside gurdwaras.
Developments expected during Canadian PM Justin Trudeau's upcoming India visit
On January 10, the Ministry of External Affairs said it took "no cognizance of fringe elements which spread hate and communal disharmony." The issue is most likely to weigh upon Canadian PM Justin Trudeau's upcoming week-long visit to India.