South Africa's Zuma crisis: Indian-origin Guptas raided by police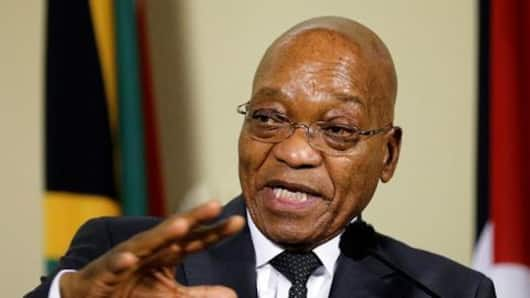 On February 14, the South African Hawks police unit raided the home of the controversial Gupta family based on allegations that they had inappropriate links with President Jacob Zuma. This was part of the corruption and influence peddling investigations against Zuma.
This comes amid reports that the ruling African National Congress (ANC) has called a vote of no-confidence, hoping to replace the embattled Zuma.
In context
Latest scandal involving South Africa's Jacob Zuma
About
Who is President Jacob Zuma?
Called the "Teflon president," Zuma will face his ninth vote of no-confidence in Parliament.
Zuma, elected in 2009 and 2014, has held on to power due to his modest roots, charisma and strength in adversity - qualities which resonate with public.
However, he has also faced charges of money-laundering and racketeering in a $5bn arms deal signed in 1999.
Charges
Now, what are the charges against the Guptas?
The Indian-origin Guptas are accused of "state capture." The phrase was coined to define how the family allegedly used its friendship with Zuma to influence ministerial appointments, secure government contracts and obtain insider information.
They are also linked to the Vrede Farm scandal, wherein Guptas and officials, including Zuma, are accused of stealing money allocated to benefit poor black farmers.
Love World news?
Stay updated with the latest happenings.
Notify Me
What action has been taken against them?
Both Guptas and Zuma have denied any wrongdoing. Reportedly, the conducted raid has led to the arrest of two Gupta family members and two other suspects were going to surrender. Though this move is lauded, activists claim the fight against corruption has just begun.
15 Feb 2018
South African Prez Jacob Zuma resigns amid corruption scandal
South African President Jacob Zuma resigned yesterday after years of battling corruption allegations.
He blamed the ruling ANC party of "very unfair" treatment and protested their decision to "recall" him as "there's no evidence of me doing anything wrong."
Multi-millionaire former businessman and current Deputy President Cyril Ramaphosa, who was elected ANC chief in December, will now take over as the new president.