Multiple terror attacks strike Afghanistan leaving at least 24 dead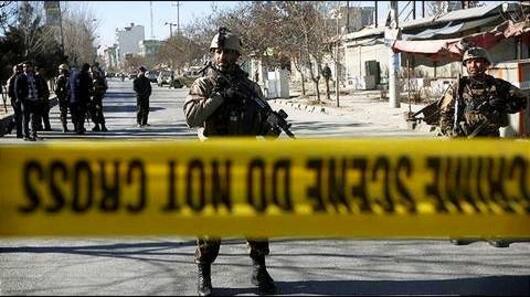 At least 24 people have been killed and several others injured in four different terror attacks in Afghanistan.
The biggest attack was on an army base in the Farah province in which 18 soldiers were killed. Taliban terrorists reportedly carried out the attack.
Also, three separate suicide bombings were reported in Kabul and the "volatile" Helmand province of the war-torn country.
Here's more.
In context
Taliban, Islamic State carry out attacks across Afghanistan
Farah Attack
Taliban claims responsibility for attack in Farah
Afghan Defense Ministry spokesman Dawlat Waziri confirmed that a large number of Taliban terrorists attacked an army outpost in the western province of Farah.
The Taliban has already claimed responsibility for the Farah attack. The Taliban group has also claimed that two of its fighters were killed.
Dawlat Waziri stated that they do not have more details of the attack at the moment.
Authorities order investigation into Farah attack
"(Taliban) Militants attacked an army base in Bala Buluk district of Farah. We lost 18 soldiers; two soldiers were wounded. We have sent more reinforcements," stated Waziri. Farah's Deputy Provincial Governor Younus Rasooli a fact-finding delegation was sent to Bala Buluk to investigate the attack.
Love World news?
Stay updated with the latest happenings.
Notify Me
Details
Suicide bombing in Kabul carried out by Islamic State
The latest in the series of terror attacks in Kabul is a suicide bombing near the headquarters of a NATO-led mission in the country.
A bomber reportedly detonated his explosives near the capital's diplomatic area in the morning; at least three people were killed, and five were injured.
Islamic State terror outfit claimed responsibility for the Kabul attack through its Amaq News Agency.
Afghan Deputy Interior Ministry spokesman's statement
On the attack near Kabul's diplomatic area, Afghan Deputy Interior Ministry spokesman, Nasrat Rahimi, stated: "At around 8:30 am, a suicide bomber on foot, well-dressed with a necktie on, was identified at a checkpoint. He blew up his explosives, killing three and wounding five others."
Helmand Attacks
Two separate attacks in Helmand province
Meanwhile, two suicide bombing attacks were also reported in Afghanistan's southern Helmand province.
A bomber detonated a car-bomb in the Helmand capital, Lashkar Gah, killing one civilian and injuring at least eight others, said a spokesman Omar Zwak.
In a second attack in the province, a suicide bomber targeted an Afghan army outpost; two soldiers were killed, and one was injured, Zwak said.