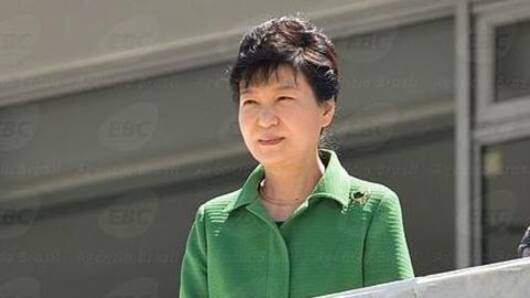 President Park Geun-hye impeached
South Korea's Parliament passed a motion to impeach President Park Geun-hye over her involvement in a corruption scandal; the motion was adopted by 234 votes to 56.
The Prime Minister will temporarily execute her powers, until a Constitutional Court decides on ratifying the Parliamentary decision; only then will she be removed from office permanently.
The decision could take months.
Daughter of Choi Soon-sil arrested in South Korea's political scandal
Danish police arrested the daughter of South Korean President Park Geun-hye's friend Choi Soon-sil.
Choi's daughter Chung Yoo-ra was being sought by the South Korean authorities for her ties to South Korea's political scandal.
Chung was arrested for her illegal stay in Aalborg, a northern Danish city.
According to a source, prosecutors are set to work with European authorities to extradite Chung.
S. Korean President refuses to testify in impeachment trial
South Korean President Park Geun-Hye refused to testify in her impeachment trial, delaying oral arguments by one day.
Her no-show brought on criticism from lawmakers serving as prosecutors, and the nine-justice court asked her to testify on Thursday.
According to the court, Park cannot be forced to appear in the hearings, which will proceed without her if she refuses to testify again.
Love World news?
Stay updated with the latest happenings.
Yes, notify me
Samsung Group chief arrested over corruption scandal
Samsung Group chief Jay Y. Lee was arrested from the Seoul Detention Center on charges of bribery and corruption, that led to the impeachment of President Park Geun-hye.
The court had refused to pass orders for his arrest last month, but changed judgment after prosecutors cited additional evidence.
However, it refused to issue an arrest warrant for Samsung Electronics Co Ltd President Park Sang-jin.
South Korean court impeaches President Park Guen-hye
In a first for the South Korean democracy, judges have decided to impeach President Park Guen-hye from her office.
She was found guilty for being involved in a corruption scandal with her close friend Choi Soon-sil.
She also lost her presidential immunity and can be prosecuted; however Park and Choi denied any wrongdoing.
South Korea must now elect a new president by early May.
SKorean President Park Geun-hye arrested on bribery charges
Ousted South Korean President was arrested on bribery charges after the Seoul Central District Court approved an arrest warrant against her.
The court agreed with prosecutors' concerns that Park may use her influence to destroy electronic evidence if not arrested. She will be in detention for 20 days.
Park's lawyers had argued that she should not be arrested as she doesn't pose a flight-risk.
South Korea: Former President Park Geun-hye indicted in corruption scandal
Former South Korean President Park Geun-hye, on trial for alleged corruption, has been indicted on several charges including bribery.
Reportedly, Geun-hye denied all allegations during five rounds of questioning.
Prosecutors also ended probe into the 'abuse of power' scandal that led to her impeachment; she was arrested on March 31.
Geun-hye is accused of using her position to extort money from large firms.