World
China blocks India's NSG bid in Seoul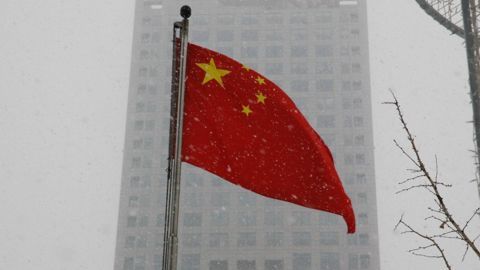 China backtracked on all previous assurances given to India and re-iterated that only NPT signatories could be eligible to join the NSG.
China's opposition was also taken forward by delegations from Switzerland and Brazil, who sought to quash India's bid for membership.
Meanwhile the US stated that there was a 'path forward' and India could become a member by next year.
In context:
India's bid for NSG membership
NSG

What is the Nuclear Suppliers Group (NSG)?
The NSG was created in 1974 after India used fuel from Canadian supplies to conduct its nuclear weapons test.
The group consists of 48-member nations which possess a large amount of nuclear fuel ore or technology.
The group seeks to limit trade in nuclear technology so as to ensure that nuclear fuel and technology is used only for peaceful purposes by non-nuclear weapon states.
9 May 2016

Pak coordinated with China to block India's NSG membership
According to Pakistan PM's Advisor on Foreign Affairs, Sartaj Aziz, China has helped Pakistan in blocking India's bid to the NSG.
China has called for "prudence and caution" over the expansion of NSG membership even as the US and various other countries support India's membership.
According to Pakistan, India's inclusion without Pakistan's entry in NSG would be discriminatory and could lead to regional imbalance.
Love World news?


Stay updated with the latest happenings.
14 May 2016

China insists NPT signing for joining NSG
China claims to have the support of many nations which do not want Non-NPT (Nuclear Non-Proliferation Treaty) signatories including India to join the coveted Nuclear Supplier Group (NSG).
China wants new nations joining NSG to first sign the NPT agreement for safeguarding the international nuclear non-proliferation regime.
India is not a signatory to NPT but wants to become a member of NSG.
The Nuclear Non-Proliferation Treaty is an international treaty that came into force in 1970.
India, Pakistan, Israel, and South Sudan are only 4 UN nations that have not signed the NPT.
NPT nations want India to join NPT as a non-nuclear-weapon state and place all nuclear facilities under IAEA's (International Atomic Energy Agency) watch which India resists as discriminatory because it perpetuates "haves/have-nots" divide.
Advantages

How will NSG membership help India?
India, a Uranium deficient nation, would be able to import Uranium more freely to feed its nuclear reactors. This is important because India is eyeing nuclear energy as a potential source to solve its energy needs.
Further, it will allow India to obtain state-of-the-art nuclear technologies with enhanced safety features.
It will also open up opportunities for Indian industries to tap global markets.
25 Jun 2016

China blocks India's NSG bid in Seoul
Love World news?


Stay updated with the latest happenings.
26 Jun 2016

Modi critics gain ammo, US assures India of NSG bid
The US assured India of making a path forward for India's membership by 2016 end.
An anonymous Obama administration official said that the US was "confident that India would become a full member of the regime by the end of the year".
However the opposition parties in India continued to berate the Modi government's by calling NSG bid "premature" and "ill-informed".
20 Jul 2016

India to resolve differences with China over NSG dispute
On Wednesday, Sushma Swaraj expressed fresh hope in ironing out the "procedural hurdles" created by China to get the coveted NSG membership.
She said that India would not sign the NPT, as in 2008 New Delhi had acquired a waiver without signing it.
She dismissed the allegations of Supriya Sule, who suggested that it was a 'huge diplomatic snub' on Mexico and Switzerland's part.
05 Sep 2016

Japan pushes for India's NSG bid
Japan has reiterated support for India's bid for NSG membership, saying India can help prevent nuclear non-proliferation.
Japanese Foreign Ministry sources stated that "we intend to continue working with India on the issue. (India's membership for NSG)".
The announcement by the Japanese comes on the heels of Beijing blocking India's bid for permanent membership at the plenary in Seoul earlier this year.
26 Sep 2016

China uses Pak to counter India's NSG bid
In a bid to counter India's claim for NSG membership, Beijing held another round of Arms Control Consultations with Islamabad discussing Pakistan's role in the NSG.
Sources stated that the two sides discussed putting forward Pakistan's views/concerns on the NSG and Pakistan's application for NSG membership.
China seeks to counter-balance India's growing international clout by using Pakistan as leverage.
11 Oct 2016

China open to talks on India's NSG bid
Chinese Vice Foreign minister said China was ready for more consultations with India to "build consensus" regarding its NSG bid.
He however reiterated that India's NSG membership would be only through consensus amongst all 48 member-nations.
In August this year, India and China put in place an NSG-specific mechanism.
These statements come ahead of Chinese President Jinping's visit to India for the BRICS summit.
15 Oct 2016

NSG and Masood Azhar stance unchanged: China
China announced that it would continue on its stand on "India's NSG membership bid and New Delhi's attempts to get JeM chief Masood Azhar designated as a terrorist by the UN."
The comments came as the Chinese President is attending the BRICS summit in India.
Chinese foreign ministry spokesperson Geng Shuang said despite making "great headway" Beijing's stand on these issues was unchanged.