World
California Shooting: Gunman's 'kill list' found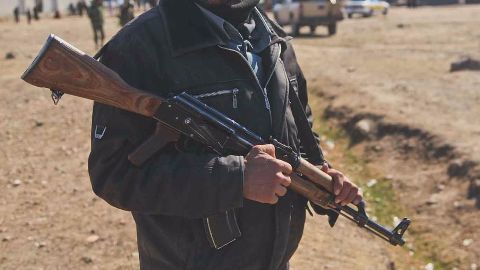 On 1st June, 2016, there occurred a murder-suicide at the engineering building of University of California, Los Angeles.
The gunman committed suicide after killing an Associate Professor of Mechanical and Aerospace Engineering.
A note at the scene led the investigators to Sarkar's house, where they discovered a 'kill list'.
It named two UCLA professors and one young woman, who was later found dead.
In context:
2016 UCLA murder-suicide
1 Jun 2016

The day of the shooting
A gunman, identified as Mainak Sarkar, killed a woman in Minnesota who was later identified as his wife, Ashley Hasti.
He then drove 2,000 miles (3,200 kms) to the UCLA campus and shot himself dead after killing Professor William Scott Klug.
Sarkar also had intentions to kill another professor who was off-campus at the time.
The shootings resulted in a two-hour campus lockdown.
The Shooting

Unraveling of Events
The Los Angeles Police Department was notified about the shooting around 10 a.m PT on 1st June.
Thousands of students barricaded themselves in classrooms and offices, some of which had to be locked using belts, chairs and even printers.
Police tried to clear the campus building floor by floor, armed officers and squad cars filled the area.
The situation was contained shortly after noon.
Love World news?


Stay updated with the latest happenings.
School shootings common in US?

From 2010-2016 alone, there have been one hundred and seventeen school shootings in the United States.
Background

About Mainak Sarkar
Mainak Sarkar was a former PhD student of William Scott Klug.
He graduated from the Indian Institute of Technology at Kharagpur, India, in 2000 with an undergraduate degree in aerospace engineering.
He obtained a masters degree from Stanford University where he studied from 2003-2005.
Sarkar attended UCLA's school of engineering from the fall of 2007 to the summer 2013, graduating with his PhD degree.
Professor William Scott Klug joined the UCLA faculty in 2003, heading a biomechanics research group, that Sarkar was also a part of.
Klug was married with two children and was described by his students as humble and approachable.
Ashley Hasti and Mainak Sarkar were married in 2011 and split a year later.
Hasti studied medicine at the University of Minnesota Medical School.
Potential Reasons

In his blog titled Long Dark Tunnel, Sarkar wrote: "My name is Mainak Sarkar. I was this guy's (Professor Klug's) PhD student. We had personal differences. He cleverly stole all my codes and gave it another student. I urge every UCLA student to stay away from this guy."
Love World news?


Stay updated with the latest happenings.
4 Jun 2016

California Shooting: Gunman's 'kill list' found
Mainak Sarkar's cat

In the note that was discovered by the police at the scene of the

crime

, Sarkar asked the authorities to check on his cat back home in Minnesota.